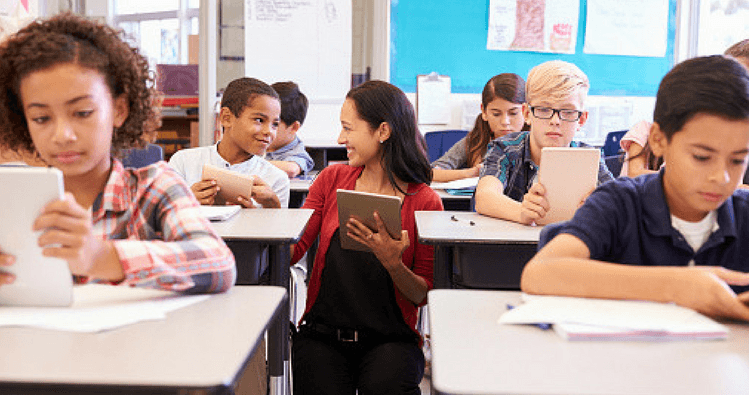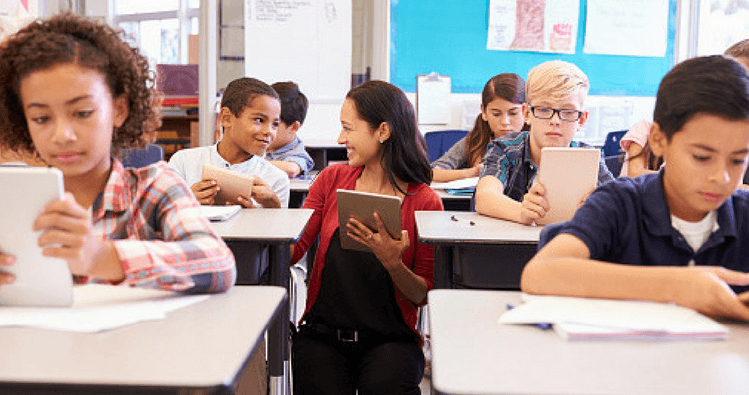 A lot can happen in a year.
Last summer, we previewed some fascinating ed tech programs that launched in savvy school districts across the country. No surprise that 2018 offers a host of new programs, tools, and initiatives designed to transform K-12 learning.
What tools and programs should you keep an eye out for? Which ones are best suited for the unique needs of your district and its students? What are other school districts doing to inspire you? To help, we've previewed 10 ed tech programs you can look forward to hearing a lot more about in the coming year.
1. Losing Interest Alerts
What if teachers could identify, in real time, where and when a student loses interest during a test? That's the hope behind Santa Ana Unified School District's collaboration with the Northwest Evaluation Association's digital assessment tools, which send alerts to teachers every time a student starts to fidget or get distracted. The hope: a quicker way to catch and address any learning problems.
2. Emotional Skills
Perhaps just as important as skills in science and mathematics are emotional skills that help K-12 students live in an increasingly diverse world. While not all students have immediate access to peers different from them, video-conferencing platforms have helped teachers in California and New York expose their students to social and emotional interactions with students from other parts of the country – and world.
3. Mobile Classrooms
Students in Scotland County Schools in North Carolina are taking STEAM3 (Science, Technology, Engineering, Arts, Mathematics, Medicine, and Manufacturing) learning on the road with the rollout of a traveling classroom that uses hands-on learning, an interactive TV, and design tools to teach students in-demand skills in science, technology, engineering, arts, mathematics, medicine, and manufacturing. The idea behind the mobile classroom, according to Scotland County Schools Superintendent Ron Hargrave, is to prepare students for the exponential increase in STEAM3 jobs in the future.
Similarly, Newington Public Schools in Connecticut created a technology bus out of a decommissioned school bus. The bus is driven around neighboring schools in order to bring digital tools and resources to lower-income communities.
4. OneNote for English Language Learners
According to EdTech Magazine, more education technology is addressing the specific learning needs of English Language Learners (ELLs). One tool the magazine reports on is a revamped version of Microsoft's digital note-taking program, OneNote. With the new addition of text-to-speech and speech-to-text tools, students with a weaker command of the English language are better poised to stay on track with their peers.
Klein Forest High School used this tool with students who were new to the country and learning English. One teacher, "saw vast improvements in the students' writing and language acquisition over time."
5. Student Response Systems
Socrative and Verso are just two of the many student response system apps out there. A recent article by Education Dive notes that apps like these are a tech trend that's offering an increasing influence on student engagement in the classrooms by providing students a digital way to respond to questions, take quizzes, or even compete against one another. "Since many schools are adopting 1:1 device initiatives, student response systems are becoming much more accessible," writes Jessica Leigh Brown.
Colony High School in Alaska uses Google Classroom to help provide faster, detailed feedback to students. For example, students can take a quiz in class, the teacher sees who is done and reviews their answers.
6. Student-run IT Help Desks
Have a tech problem you need to solve ASAP? The next time you contact your district's IT help desk, the technician on the other end just might be a student. That's the idea behind Indian Prairie School District's initiative to train students to troubleshoot common tech issues. Not only does this program help teach students critical IT skills, it also has the potential to speed up the response time of already overworked school help desks.
7. Wearables
From smart watches tracking student physical fitness goals to virtual reality headsets inviting a student to travel back to ancient Rome, wearables are expected to double in the market over the next four years, according to EdTech Magazine. It's a trend that promises great potential for K-12 classrooms – as well as for technological innovation. (Consider Muse, a brain-sensing headband that monitors student attention in the classroom.)
The A. Harry Moore School in New Jersey, supporting students who have low-incidence disabilities, has seen "great success using wearable technology to support the needs of our students." According to an EdTech article this school uses:
FitBit devices to encourage students to move more.
Myo Gesture Control Armbands to create accessibility to STEM projects by reading gestures and motion.
Interactive textiles (cloth that generates and stores power) for a wearable fashion show.
8. Augmented Reality
Augmented reality isn't just for cool experiences – it can also have practical implications for how students with disabilities learn. Says EdTech Magazine: "In K-12 schools, [augmented reality] can facilitate better experiences for deaf and hard-of-hearing students by creating interactive flash cards that use sign language."
9. Pear Deck
If the makers of Pear Deck have anything to say about it, the days of boring class presentations are over. One of the programs to be featured at the 2018 Future of Education Technology Conference, the Pear Deck platform helps make slide decks more student- and device-friendly through tools such as anonymous student responses, interactive animations, and individual Google Docs accounts for students.
10. Crossbraining
Another tech tool making an appearance at FETC 2018 is Crossbraining, which taps into the excitement and versatility of Go Pro cameras to transform student work into immersive storytelling experiences. As Nibletz reports, educator and Crossbraining developer John Nichols "saw a 40 percent increase in the passing rate on the State of Michigan standardized test scores" due to Crossbraining.
Student collaboration and expanding 21st-century skills will continue to be a major theme in education next year.
Always Trending: Broadband Internet
Of course, the most innovative ed tech tools require broadband Internet access to function. As more school districts implement digital learning initiatives like these, students who don't have digital access in the classroom or at home are finding themselves left behind.
That's where Kajeet comes in, to close the Homework Gap outside the classroom.
Kajeet Education Broadband™ gives students access to safe mobile broadband so they can learn, study, and succeed. It is an easy-to-use, affordable tech tool that's always essential – and always trending.