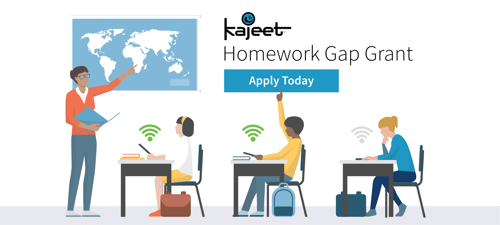 Kajeet has officially opened our 2018 Homework Gap Grant!
In 2018, Kajeet will be awarding 15 Homework Gap Grants to school districts in need of providing safe, filtered Internet solutions to connect students outside the classroom. This is a 300 percent increase over last year!
The grant includes either a 10-unit SmartSpot® program or 1 (one) SmartBus™ program for the 2018-2019 school year.
The Homework Gap Grant is currently closed for 2018.
In the first year of the grant, we initially planned on awarding three recipients, but due to the overwhelming number of compelling applications received, we expanded the grant to five schools and districts.
Let's take a look back at our 2017 Homework Gap Grant awardees. And if you're interested in applying for the grant this year, these stories may inspire you.
Warsaw Community Schools
In the 2017-2018 school year, students in Indiana's Warsaw Community Schools shifted to a full 1:1 program for kindergarten through grade 12. As a mostly rural area, students frequently lacked connectivity at home.
Brad Hagg, the CTO of Warsaw Community Schools, saw an opportunity to enhance their technology program with the Homework Gap Grant. The district decided to deploy a library check-out model with four SmartSpots in the high school library and three to each of their middle school libraries.
school district of menomonie area
During the 2017-2018 school year, Menomonie launched a full 1:1 program in grades 6-12 named the 1:1 M-Powered Learning Initiative. Because this district serves rural, economically-disadvantaged families, many students have limited or no Internet access.
Throughout the year, Kajeet SmartSpot devices, six in the high school and four in the middle school, were available for library checkout to help Menomonie maintain an even playing field for all of its students.
The program and device availability were announced through their school messenger system along with an e-blast to students and parents. Additionally, the SmartSpot devices were promoted daily on digital signs located throughout their high school.
Katie Kreuger, director of technology services, credits the success of their program to staff involvement. The media specialists who handled the day-to-day operations of this program were provided training and templates to familiarize themselves with the Kajeet SmartSpot program.
Unionville-Chadds ford school district
Unionville, located in Pennsylvania, launched a 1:1 program in their middle school three years ago. During the 1:1 pilot, however, they discovered not all students had equal access to the Internet after school. In order to determine the scope of their Homework Gap, multiple surveys were conducted across various stakeholders (i.e. students, parents, teachers). From this data, they determined that 65 of their students did not have at-home access.
With the Homework Gap Grant, Unionville expanded the impact of their 10 hotspots with a library check-out program. Six Kajeet SmartSpot devices were available for checkout in the high school library, along with four in the middle schools' libraries.
But like all programs, they need to adapt when new problems present themselves.
Over the Thanksgiving break, a student's house burnt down, forcing the family to temporarily relocate to a nearby hotel. To help the student maintain some sense of normalcy in their education, the school provided a Chromebook and SmartSpot for use throughout the year.
Justin Webb, Director of Technology, credits the success of their program to: involving his media specialist early-on, the use of parent-signed permission slips to check out the devices, and the versatility of the devices themselves.
Webutuck central school district
Located in rural New York, Webutuck Central School District exceeds the national average of Americans in rural areas who don't have access to broadband Internet.
Monica Baker, ESL (English as a Second Language) teacher, saw the need first-hand. She applied for the Homework Gap Grant to ensure her students could complete their homework once the school day ended.
Here's what Monica had to say about the Webutuck program:
Stanfield elementary school district 24
Stanfield Elementary, located south of Phoenix, AZ, saw a different reason to apply for the Homework Gap Grant. Their students have the longest bus route in the state—and possibly the country.
With students who travel to school 50-60 minutes each way, connecting them to educationally filtered, CIPA-compliant Internet with the Kajeet SmartBus would provide an additional learning opportunity they didn't have before.
Extending the classroom to the school bus allowed students to take advantage of digital remediation programs the school had put in place previously.
The Homework Gap Grant is currently closed for 2018.