In rural America, 39 percent of households do not have access to high-speed Internet, which equates to 23 million people, according to the FCC 2016 Broadband Progress Report. Urban areas experience much higher connectivity, with only four percent of people without access to fast Internet.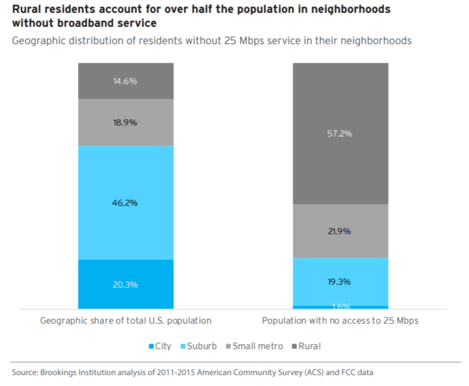 An estimated five million households with school-aged children lack high-speed Internet connectivity at home, which means a large majority of those students most likely live in rural areas.
Rural students face a larger Homework Gap than their urban peers, but that does not mean it has to remain that way.
Image Source: "Signs of Digital Distress" The Brookings Institute
Today's Rural Education
Future Ready Schools (FRS) put together a guidebook tailored to rural education. The guidebook points to unique challenges rural schools face, including:
Human capital. Rural schools have difficulty finding, and retaining, high-quality teachers often due to location. They also have trouble hiring teachers for science, technology, engineering, and math, basically the critical STEM skills for today's 21st-cenutry student.
Funding, shared resources, and long travel times. Funding is typically based on the number of leads to shared resources, such as school buses. Rural districts are spread out, plus if school transportation is shared between schools, students can face very long bus rides to and from school. CESAs and ESAs can help more rural districts through shared resources (such as staff and equipment) and supporting teachers.
Technology. While some rural schools have taken advantage of technology to address these challenges, very few have fully integrated technology into their programs. Wireless connections can be slow, and only about half of students in rural schools have broadband access at home.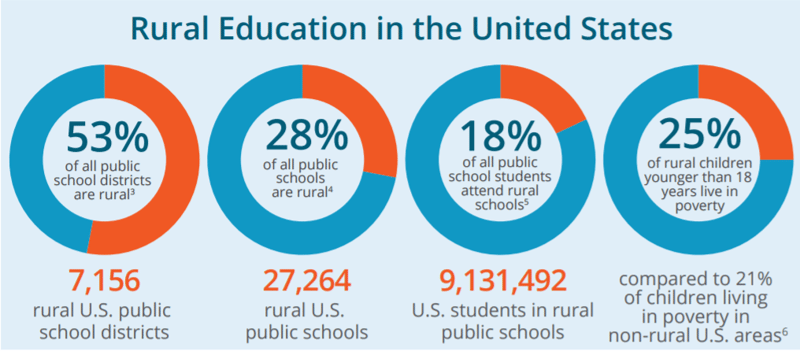 Image Source: "A Guidebook for Success: Strategies for Implementing Personalized Learning in Rural Schools"
Leading by Example: Connecting Students in Action
Beekmantown Central School District is located in rural New York and was looking to go 1:1. The district surveyed students and found 70 percent did have Internet access at home, but that still left 30 percent without access, according to Superintendent Dan Mannix.
They partnered with Kajeet to provide SmartSpot® devices (Wi-Fi hotspots) in order for students to access safe, CIPA-compliant Internet at home. But that is not the only way Beekmantown connects their rural students.
According to a recent THE Journal article, "students in the district also often spend as much as 45 minutes on the bus each way so, at the urging of Gary Lambert, the district's director of 21st-century learning, Mannix decided to add Wi-Fi to the buses serving the longest routes, with plans to eventually install Kajeet devices on all the buses."
"Our achievement has been up, our discipline's been down, our attendance has been up, our graduation rates are up. I can't attribute it just to this journey, but it's certainly baked in for sure."
Dan Mannix, Superintendent, Beekmantown CSD
Rural school districts can make the most of shared bus rides by providing students Wi-Fi on the bus with the Kajeet SmartBus™ program. To learn more about Beekmantown's SmartBus program, check out their full case study here.
Beekmantown CSD is just one example of how a rural school district can integrate technology into their curriculum.
Making Personalized Learning a Reality for Rural Schools
Whether school districts want to go 1:1 or implement a personalized learning pedagogy, technology use in rural schools is possible. And Future Ready Schools (FRS) wants to make that dream a reality.
FRS has focused on helping the nine million rural students keep up with their urban peers when it comes to ed tech use. They created a publication, "A Guidebook for Success: Strategies for Implementing Personalized Learning in Rural Schools," to help education leaders make the most of current assets, while addressing challenges specific to rural schools.
The guidebook lists seven "gears," or categories of work, for districts to focus on when implementing personalized learning. Then they tailored the list to support rural schools.
1. Curriculum, Instruction, and Assessment.
Due to the smaller size of rural districts, it can be easier for teachers to collect data and track student progress. Build an extended timeline for implementation in order for teachers to ease in to this new method.
2. Personalized Professional Learning.
Again, a smaller size school and team can ease the process of engaging all staff members and foster better teamwork. Use the same technology platforms that the students will be using to help with teachers' professional learning.
3. Budget and Resources.
An Ed Tech article states, "Implementing a digital learning initiative requires long-term investments in new devices, but ultimately the boost in the efficacy of instruction has been shown to reduce costs." Explore partnerships and take advantage of federal waivers.
The Ed Tech article suggests lending out hotspots for schools with a Homework Gap. If you are looking to provide hotspots for your students, contact us today and we can help you get started.
4. Community Partnerships.
Leverage relationships with local businesses to develop off-campus learning opportunities for students and collaborate on curriculum modules.
5. Data and Privacy.
The small size of school districts enables teachers to make personalized decisions and form relationships with all students and their families. Continue to provide training to teachers to help them develop their data-literacy skills so they understand the process for protecting student data and have a plan to use this data effectively.
6. Robust Infrastructure.
High-quality devices and adequate bandwidth is crucial to provide a consistent online learning environment. Leverage existing state and federal infrastructure support programs, such as E-Rate.
We suggest helping your low-income families by providing students with Kajeet SmartSpot devices so students can access Internet outside the classroom.
7. Use of Space and Time.
Restructure physical classrooms along with instructional times in order to help foster the personalized learning mindset. Create a flexible schedule for on campus, and help your students access Internet off campus.
While the current statistics for rural Internet connectivity still remain lower than urban areas, there are methods to connect those students. By providing at-home Internet access or equipping school buses with Wi-Fi, rural districts can work to implement personalized learning and ensure their students are able to embrace 21st-century learning both inside and outside the classroom.