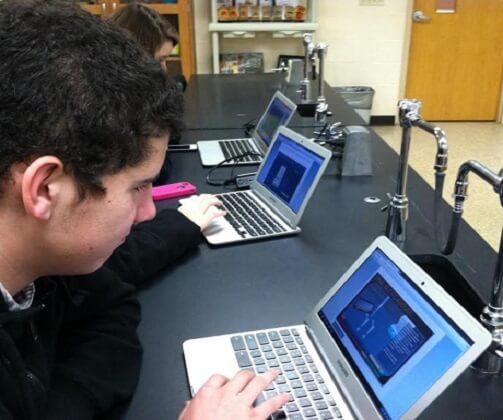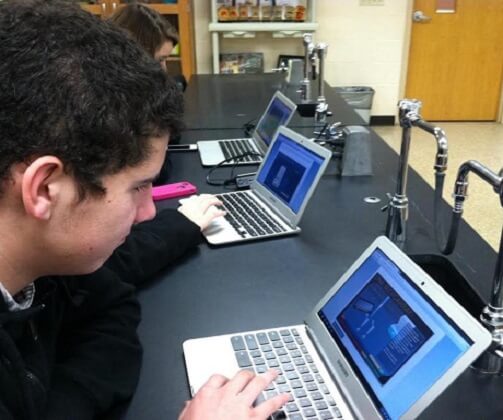 When Melissa Motes, Director of Instructional Technology for DeKalb Independent School District (DeKalb ISD), was planning to implement a 1-to-1 technology program for the students in her school district in grades 8 through 12, she had to be very careful to keep the cost down. "We had a vision for where we wanted to go, but our funding was limited."
COMPUTERS WITH NO INTERNET ACCESS
With just under 1,000 students in grades K-12, DeKalb ISD is a small, rural school district in DeKalb, Texas, near the border of Arkansas and Oklahoma. Melissa's budget allowed them to purchase Chromebooks with cases that were made available through a library checkout system for any student in grades 8 through 12.
"We didn't have hotspots the first year and that was the first roadblock we ran into. We had a lot of kids without Wi-Fi. Teachers had to be flexible with deadline dates. The Wi-Fi Hotspots have made a huge difference."

Melissa Motes, Director of Technology
In a district where 70% of students are economically disadvantaged and 60% have no computer at home, it was no surprise that so many of them also lacked home Internet access.
INTERNET FOR EDUCATIONAL PURPOSES
The decision to partner with Kajeet Education Broadband™ to offer filtered, wireless Internet access to their students who otherwise lacked access to the Internet outside of school was an easy one.
"From an instructional standpoint, it has changed the way our teachers are able to teach. They are not afraid to assign homework because they know everyone can get to it now."

Donna Hunt, Biology Teacher
Donna explains knowing her students all have Internet access at home makes it easier for her to individualize instruction for those who need it. "The biggest change I experienced this year is the fact I can put Internet resources on Google Classroom and all of my students could access what they needed. I was thrilled that students who do not have computer resources or even cable television in their home were able to check out a hot-spot and access the e-book or sites on my classroom page. This means my students living in a low-income home have just as much opportunity as students whose parents use the Internet and computers at home."
Allowing students to also check out the Kajeet SmartSpot® devices – portable, wireless MiFi devices that allow anytime, anywhere Internet access that is safe and secure – was a big win! Kajeet Education Broadband allows the customer to monitor student's Internet usage and filter content to ensure that their students are only using the Internet for educational purposes.
In the beginning, Melissa and her team preferred the ability to manage their own data consumption on the SmartSpot devices. They quickly discovered that students were determined to use their Internet connectivity for activities other than for educational purposes – including social media, gaming and streaming.
After only two months, they switched from the district managing their own access to the Kajeet Managed service – a service where Kajeet will automatically filter content and alert the client when data limits are close to being reached – and this saved DeKalb ISD not only time, but also money. In the first 3 months on the Kajeet Managed plan, there was a 77% decrease in total MBs used – and that added up to big savings for this small town.
Melissa Motes was thrilled with the switch to Kajeet Managed.
"The Kajeet Managed is such a better option for us. The kids were using the devices a lot and it was impossible for us—even as a small district—to stay on top of it all. We didn't want to focus on that part. We need to focus on instruction. That is our job!"