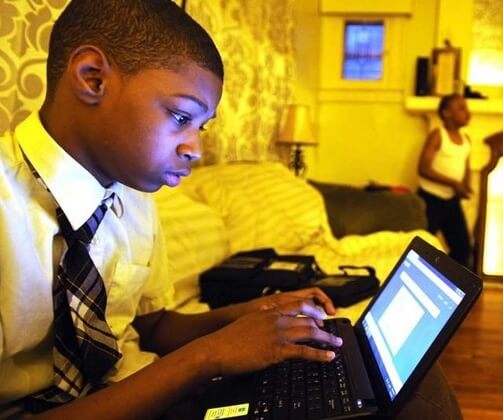 When one of the nation's largest urban school districts is serving one of the most disconnected communities, what's compromised is education.
The Detroit Public Schools district, overseeing nearly 100 schools, faces a fundamental challenge – providing safe and affordable Internet connectivity to more than 50,000 students across Detroit. Currently, only 30 percent of DPS students have Internet access at home. Given the increasing prevalence of online textbooks, educational videos and research tools, this not only impacts the curriculum and assignments outside of class, it results in rudimentary teaching methods and therefore, less-engaged students.
A Smart Solution
Detroit Public Schools is doing something about it by making technology one of its foremost priorities. Thanks to educational grants, DPS students in grades six and above now have access to Netbooks in class, while those in grades eight through 12 are participating in a take-home Netbook program. With these devices in place, the only remaining hurdle is reliable and cost-effective Internet connectivity.
That's where Kajeet enters the picture. Approximately 500 Kajeet SmartSpot™ Wi-Fi hotspot devices were deployed in November 2013 as part of a pilot supporting DPS' take-home Netbook program for eighth through 12th grades. The pilot was funded through private grants, such as the Community Telecommunications Network and others, and was implemented in eight schools across the district for the 2013-14 school year. As a result, in addition to classroom access, students can now access vital academic and research sites anytime, anywhere.
Why Kajeet?
Because the Kajeet SmartSpot is compatible with any Wi-Fi capable device, including iPads, Netbooks and tablets, it's easy to integrate into a school's curriculum and technology program. It allows teachers and administrators to manage Internet access times and content. Schools minimize costs by only paying for the data used, and rolling over any unused data, allowing them to plan and stick to their technology budget. Students share the total available data balancing out usage, and the school does not pay for exceeding the allotted data since the Kajeet SmartSpot automatically shuts off upon reaching the set limit.
While this gives teachers more flexibility in implementing innovative teaching resources, it takes the burden of connectivity off parents' shoulders. The devices attach to the Netbooks, so if misplaced, they can be easily traced. And given that Kajeet SmartSpot devices are completely compliant with the Children's Internet Protection Act (CIPA), parents and teachers have valuable peace of mind. All of these school-friendly features make Kajeet a viable option for other similarly cash-strapped districts.
A Win-Win Connection
DPS students are using Kajeet SmartSpot devices to access math, educational games and research sites outside of school on a daily basis.
According to James Whittaker, an eighth grader, "Having limited Internet access at home made it a lot tougher to get homework and projects done in a timely manner. Now that we can have Internet access available to us 24/7, it makes us not have to worry about going somewhere to find Internet access."
"This tool could be a game changer for us. A resource like the Kajeet SmartSpot is ideal because it's easy to use, works well, and takes the onus of connectivity away from our parents. Additionally, it will change the landscape of how teachers teach and work is completed by our students. This opens the doors to what is possible beyond the classroom."

Diane Jones, Chief Information and Strategic Officer
DPS middle school science teacher Lynn Chudy agrees. "Having Kajeet SmartSpot devices has allowed teachers to supplement their lesson plans with online academic sites and ensure that students have the appropriate means to complete homework and projects." Chudy hopes that eventually, students will be able to transition to online submission of assignments, and go green.
Tanisha Hill, a middle school English language arts teacher, is also optimistic that access to connectivity tools will help bridge the communication gap for students.
"It's extremely hard for students and parents to stay on track when they do not have access to the web outside of school, the Kajeet SmartSpot is a great way for families without internet access to not get penalized because they do not have the resources at home."

Tanisha Hill, English Language Arts Teacher
What's next for DPS? Jones hopes to connect the remaining 70 percent of disconnected district students in a similar manner. "I am confident that the results of this pilot will allow us to gain more momentum around our objective to close the digital gap for our students," she says.
As Kajeet CEO and founder Daniel Neal sums it up, "Digital literacy is not just about doing math and reading online. It's about developing the online skills vital to a 21st century workforce. Kajeet is committed to laying that pivotal foundation, connecting one student at a time."