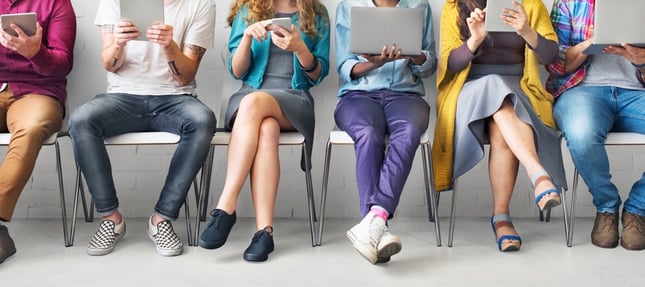 Your kids may be good students. But are they good digital citizens?
Sure, they can recite the preamble to the U.S. Constitution, describe the symbolism of Harper Lee's mockingbird, and explain the difference between igneous and metamorphic rocks. That doesn't mean they can properly cite an Internet source, report cyberbullying, or protect their personal information.
As kids today spend more of their learning time online — especially in school districts with 1:1 learning programs — educators have to do more than teach children about civic responsibility in their communities. They have to teach children about civic responsibility online.
DIGITAL DANGERS ABOUND
Snap Chat. Omegle. Whisper. Yik Yak. Ask.fm.
Have you heard of these companies? They are the latest messaging apps kids are using to share anything they want anonymously.
If digital literacy is about knowing how to use these tools, then digital citizenship is about knowing how to use them responsibly. It's about more than just protecting students from pornography and violent imagery. It's about empowering them with the skills to protect themselves in an increasingly interconnected (and unsupervised) world. And it's about teaching them to take personal accountability for everything they do — and say — online.
Invisible Bullies. Gone are the days when bullying happened only on the playground. With social media, it's easier than ever for kids to be bullied. Not only should children be aware of how to recognize cyberbullying, they should make sure they don't turn into cyberbullies themselves.
Reliable Sources. With access to an almost infinite amount of knowledge just a search away, more and more research for projects, presentations, and papers is being done online. With this access comes tempting opportunities to plagiarize. How do students know which sources they can rely on? How do they make sure content creators get the credit they deserve?
Privacy Worries. Whether it's their home address, their phone number, or their answers to last night's take-home quiz, children need to know how to keep personal information safe from scammers, how to cultivate responsible security-related skills, and what not to share.

WHAT MAKES A GOOD DIGITAL CITIZEN?
Teaching digital citizenship to students is one of the great challenges facing educators. And it's even more important for the students themselves, who not only have to juggle the information they need to succeed but the digital tools connecting them to that information.
Author Mike Ribble, in the second edition of Digital Citizenship in Schools (published by the International Society for Technology in Education), outlines nine core elements of positive digital citizenship, and groups them into three main categories that provide a solid model for educators to follow in their K-12 classrooms.
Student Learning and Academic Performance. Digital citizens need to master the basics of digital literacy (how to use specific tools to perform specific tasks), digital learning (how to use specific tools to learn new information), and digital access (where to find specific tools both inside and outside the classroom).
School Environment and Student Behavior. Beyond that, students should be taught the fundamentals of digital security (including what information to share and not share), digital etiquette (how to properly communicate with others via email), and digital rights and responsibilities (what protections they have — and don't have —while online).
Student Life outside the School Environment. The last category belongs to more open-ended, community-focused aspects of digital citizenship: digital health and wellness (how students can protect themselves from technology addition), digital law (which covers topics like plagiarism and illegal downloads), and digital commerce (how to shop online and avoid identity theft).
DIGITAL CITIZENSHIP MADE FUN
How are teachers and educators bringing digital citizenship into their classrooms? As you'd imagine, there are a wealth of references, tools, activities, lesson plans, posters, books, videos, and games out there — all of them dedicated to making digital citizenship accessible and enjoyable to students.
The Teaching Channel has crafted an entire video playlist covering some of the major categories of digital citizenship. Informative and engaging, these videos provide comprehensive introductions into topics such as copyright law, understanding your digital footprint, and practicing effective email etiquette. They even touch on more delicate topics such as sexting.
iKeepSafe and Google Digital Literacy and Citizenship Curriculum. Their curriculum includes animated videos and lessons plans designed to be interactive and teach students how to manage their Digital Reputation and how to steer clear of cyber tricks and scams.
But regardless of the tools available to educators, the overarching message remains one of civic responsibility. Education is — and has always been — about more than just memorizing facts, taking tests, and writing papers. It's about cultivating students to become model citizens of the world.
The real world — and now the digital one as well.
Has your school district started a 1:1 program? Want to provide your students easy, safe Internet access so they can keep learning at home? Discover why Kajeet is more than just Internet.