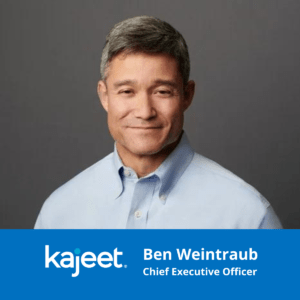 Weintraub succeeds Daniel Neal, who moves into Executive Chairman role
McLean, VA. — January 4, 2023 — Kajeet®, a world-class provider of managed IoT connectivity solutions and private wireless networks, appointed Ben Weintraub as the company's new CEO effective January 1, 2023. Weintraub previously served as president and COO, during which time he helped lead the company's significant growth and developed a streamlined approach to business. Weintraub succeeds Daniel Neal, who together founded Kajeet in 2003. Neal will now serve as executive chair of the board for Kajeet. This announcement aligns with Kajeet's 20th year in business.
"The timing is right for Ben to take on the role of CEO," commented Daniel Neal. "We started this journey over 20 years ago and Ben has been an integral part of our success along the way. His laser-focused determination has been a key factor in the development of many of the systems, technologies, and processes that that have brought success to Kajeet and its many customers. It is time for Ben to continue to take Kajeet to new heights, building upon the Kajeet entrepreneurial spirit."
Weintraub will focus his efforts on company growth, continued technology innovation, and delivering customer value in the IoT space. As executive chair of the board, Neal will remain active in building the Kajeet brand. Both leaders have been strong proponents of "Connectivity for Good" over the past 20 years with a passion aimed at closing the Digital Divide for students across the United States. That commitment has expanded into other areas such as healthcare, where the lack of connectivity can adversely impact the health of society's most vulnerable.
"I am honored and excited to take on the role of CEO," said Weintraub. "Daniel Neal and I founded Kajeet 20 years ago to make a difference in the lives of people through the use of technology. We remain steadfast in our mission to bring innovative solutions to public sector organizations and enterprise businesses."
An inventor and wireless industry pioneer and expert, Weintraub has more than two decades of experience founding and leading successful, high-growth technology companies. Weintraub started in the wireless industry in 1997 with the founding of Simply Wireless, one of the nation's largest authorized wireless retailers. Prior, he served six years in the U.S. Navy working in the nuclear surface ship propulsion program. Weintraub received bachelor's and master's degrees in aerospace engineering from Massachusetts Institute of Technology (MIT).
Ben Weintraub LinkedIn Profile
About Kajeet
Kajeet® is a leading IoT connectivity services provider that enables thousands of schools, healthcare providers, government organizations, and world-class enterprises to better connect with their students, employees, and customers. Kajeet's Private 5G Platform simplifies private wireless, allowing education and enterprise customers to easily build and manage their own private wireless networks. Kajeet holds 41 U.S. patents in the field of wireless technologies. To learn more, visit kajeet.com and follow us on Twitter at @Kajeet.
—————————
Kajeet Media Contact:
Linda Jennings
Director of Corporate Communications
Phone: +1-248-521-3606
Email: ljennings@kajeet.com