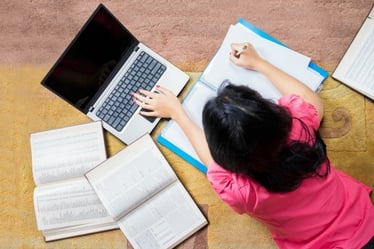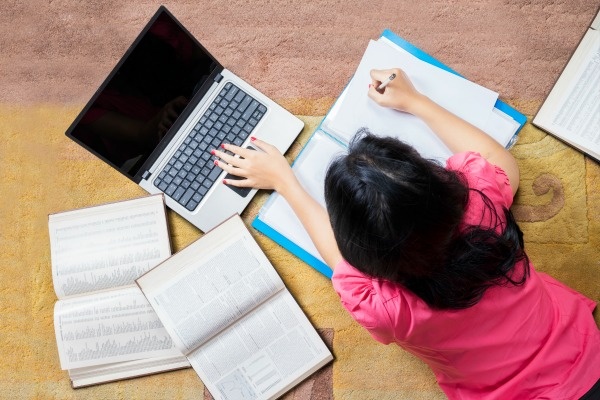 When the Lawrence Public School District began introducing digital curricula in 2014, it instituted a BYOD (Bring Your Own Device) policy, relying on students to use their own laptops and tablets to access course materials and homework after school hours. However, teachers and administrators quickly discovered that the BYOD initiative only highlighted the digital inequity that existed within the student body.
Some students had no device to bring, while others only had Internet access through their phones, which meant if their data ran out, they couldn't complete their assignments.
Even when parents and students stated they had home computer access, it didn't always reveal the full picture. For many, the home computer might be a parent's primary work computer or one that was shared among several members of the household.
Assistant Superintendent Jerri Kemble says the initiative not only showed how deep and complex the question of access is, it also exposed the inequities of BYOD.
"It's embarrassing to tell the teacher you couldn't do the homework because you ran out of data or couldn't access a computer," she says. "Students would just take an incomplete on the assignment rather than tell the teacher what was going on."

Jerri Kemble, Assistant Superintendent of Lawrence Public Schools
The seventh largest district in Kansas, Lawrence Public Schools encompasses 22 primarily suburban schools and serves 12,000 students, 46 percent of whom qualify for free or reduced-cost meals. Kemble knew her district had to find a way to provide Internet access for all of its students.
Kemble first learned about Kajeet when she attended the National Connected Superintendents Summit at the White House in 2014 and heard other superintendents discussing their partnership. After meeting with Kajeet at the ISTE conference, she was convinced that the Kajeet Education Broadband™ solution, which includes a filtered Wi-Fi hotspot's hotspots and filtering would provide the solution her district needed.
Bridging the Gap
"Digital equity is about so much more than homework. As we help these students, we are helping entire families. The connection allows families to access school news, grades, and information on events, and it helps them stay more engaged with their child's education."

Jerri Kemble, Assistant Superintendent of Lawrence Public Schools
Lawrence Public Schools began by making a limited number of mobile devices and 20 Kajeet SmartSpot® hotspot devices available for checkout in the middle school and high school libraries. The program was an immediate success.
According to Kemble, media specialists appreciated that the devices were CIPA compliant, allowed them to track data usage, could be turned off if lost or stolen, and enabled them to monitor students' online activity, if necessary. The school-based staff also loved how easy they were to set up and use.
Unfortunately, demand for the SmartSpots far outstripped the supply. "Our media specialists were heartbroken to have to tell students that there were simply no more devices available to loan," says Kemble.
Determining the true picture of access—and calculating how many students needed it—continued to be a complicated process.
"We can ask, 'Do you have access to the Internet at home?' but the answer doesn't necessarily tell us whether they have adequate access," she says. "A student who has to share a computer with five siblings doesn't really have access; a student using a phone as their only device, doesn't really have access."
By surveying middle school students to see how many had access and, more specifically, what that "access" really looked like, Lawrence School District ultimately determined that 400 students lacked adequate Internet access—right in line with Kajeet's projections that 15-20 percent of students receiving free lunch at a school will be in need of Internet access.
More than a Homework Solution
In December 2015, three high school students attended a school board meeting on the heels of the release of the National Education Technology Plan. The plan confirmed what Lawrence School District had already discovered: BYOD programs only exacerbate digital inequity in schools and communities.
The three students shared powerful personal stories about how access to school-provided devices and Kajeet SmartSpots had positively impacted their lives.
One student spoke of finally being able to participate in extracurricular activities now that she no longer had to spend all of her after-school hours "chasing down Wi-Fi," literally moving from place to place in order to be able to finish her school assignments at libraries or restaurants.
Another student said the devices enabled her non-English speaking family to translate the district website, and, as a result, be better informed about what was happening at school.
The final student—just months away from her 18th birthday—said she was looking forward to voting in her first presidential election, and she used the devices and connectivity to research the candidates online, as well as catch up on political news missed while working her after-school job.
Moved by the students' testimony, the board voted to provide an additional 100 Kajeet SmartSpots—for a total of 120 purchased by the district—and to initiate a 1-to1 iPad initiative in the middle schools.
Access for Everyone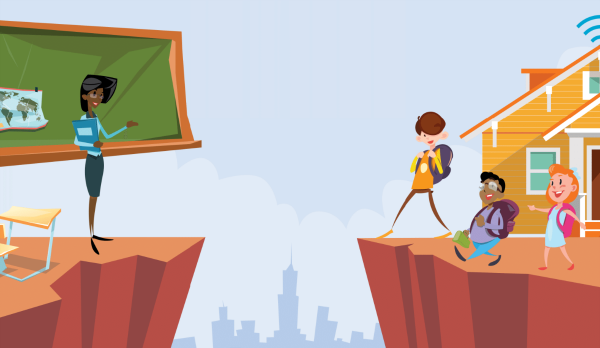 While 120 hotspots had been secured, more were still needed. Thanks to a grant from the Lawrence Community Foundation, Lawrence School District received the funds to purchase an additional 200 Kajeet SmartSpots in early September 2016. They are now working on a grant to purchase 40 more. Kemble says that because the Kajeet SmartSpots are proven commodities that are easy to implement and designed to meet educators' needs, it has made the process of getting buy-in fairly easy.
With a total of 320 hotspots in place and more on the way, Lawrence has almost met their immediate need, but they aren't stopping anytime soon. The school board stated Digital Equity as an objective for the district, and they are committed to providing access for all students.
This year, Lawrence School District is distributing iPads to all of its middle school students. Next year, the high school students will be on the receiving end of the 1-to-1 initiative. Once the district has ensured equal digital access to all middle school and high school students, it will look at providing devices to elementary students as well.
Kemble says the importance of digital access cannot be overstated. "Digital equity is about so much more than homework. As we help these students, we are helping entire families. The connection allows families to access school news, grades, and information on events, and it helps them stay more engaged with their child's education. Not only that, it allows them to access health and educational services, as well as find out about jobs available in the community."
Just as important, she says, "We're helping to create lifelong learners. Giving all students access to the Internet ensures that they have the ability to be well informed, involved citizens—and ultimately, that's the chief goal of education."