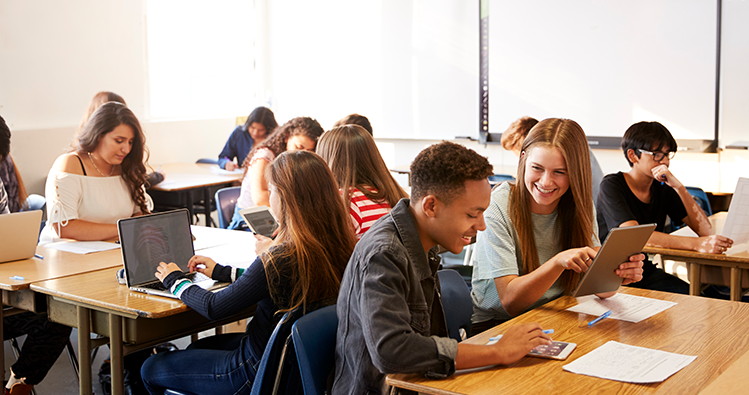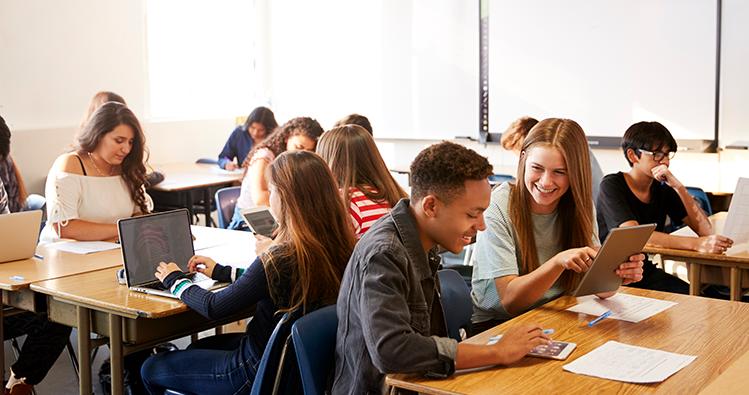 It's the start of a new decade—that means it's time to come up with new goals, try out new technology, and get up to speed on the latest ed tech trends.
We've made our predictions in years past. In anticipation of what's to come in the new year, we're highlighting six of the 2020 education trends that are sure to be top of mind for teachers, students, parents, and administrators in school districts across the country.
Here are some of the ed tech trends we think will have a big influence on the K-12 space in 2020.
Trend # 1: Embedded LTE Chromebooks
We already know that Chromebooks are popular in K-12 (we broke down five reasons why LTE Chromebooks are such an important part of today's K-12 classrooms back in October), but expect to see LTE Chromebooks become even more popular in 2020.
Chromebooks continue to be game changing for students and teachers alike. Not only are these simple laptops highly affordable, they can also be customized specifically for the learning needs of students. Some LTE Chromebooks come with filtered, CIPA-compliant 4G LTE Internet connectivity and enough data for an entire school year.
If you're thinking about bringing LTE Chromebooks into your classrooms in 2020, here's a helpful cheat sheet of what they are and how they work.
Trend # 2: New Roles for Teachers
Just as students have had to adapt to new learning methods and subjects as a result of the rise of technology use in the classroom, so too will teachers have to adapt by embracing new roles and responsibilities.
One of those roles: student. As Linda Cartwright notes in a blog post for Touro College, "a teacher is shifting from someone who knows things to someone who is a newbie, like the rest of the class." The role is now more about guiding students through learning and helping them grow than in years past when the teacher was looked at as the fountain of knowledge in the classroom.
As more and more tools are introduced into everyday classrooms, teachers will have to take on the role of explorer just like their young charges. And this evolution in their role could even lead them to earn certifications that help them perform better in the classroom.
One such certification is offered by The International Society for Teaching in Education, ISTE, who started a pilot program last year to teach its Standards for Educators through a "competency-based, vendor-neutral teacher certification." The certification process requires that an enrollee complete an in-person training and an online training, as well as create an ePortfolio before becoming an ISTE certified educator.
Trend # 3: More Artificial Intelligence
Artificial intelligence (AI) as a classroom tool has been a big topic in ed tech in recent years, and in 2020 it's expected to remain one of the chief priorities for forward-thinking schools and educators. According to Cartwright, the use of AI in the classroom is expected to increase by over 47 percent in the next three years.
There are many advantages to the use of AI in the classroom. As a tool, it's nimble and efficient. It allows for individualized learning with feedback delivered in real-time. Perhaps most importantly, it's a lot of fun. There's an abundance of AI-powered apps and programs that can help students more effectively understand and apply concepts in fields essential to STEAM learning (Science, Technology, Engineering, Art, and Math).
Ed Tech Magazine writer Doug Bonderund breaks down the next steps AI learning is expected to take in the coming years. These steps include everything from AI-powered classroom assistants to smarter AI programs that can better capture an individual student's progress and setbacks.
Trend # 4: Connecting Students to Learning in New Ways
Videoconferencing on the Rise
In the old days, you may have had a pen pal at another school to whom you wrote letters once a month. Not anymore.
Just recently, kindergarten students in New York connected with their tiny peers in Ohio—all with the help of videoconferencing. Their story highlights the growing role distance learning plays in today's schools. And videoconferencing is an enormous part of that.
For K-12 students, videoconferencing is about more than just the marvels of meeting someone hundreds of miles away. It's a unique opportunity for students to practice their communication skills, to collaborate in real time on projects, and to learn from professionals and experts who might otherwise not be able to visit a classroom.
Videoconferencing also keeps homebound students connected. For example, one student in Indiana is able to video in to his classroom to stay connected, even though he is at home due to a medical condition.
Extending the Classroom Beyond School Walls
School districts across North America are adding filtered Internet to their school buses. Why? To extend the learning day while providing all students the opportunity to access the Internet for homework.
When Merced Union High School District (MUHSD) in California went 1:1, the technology department knew students were still spending hours traveling to and from school in their rural community, along with travelling for extracurriculars.
"We had looked at a number of solutions, but it would have been cost prohibitive to give everyone a device with a hotspot. It just wasn't going to be possible. When I saw Kajeet's solution for the school buses, it just clicked."

Anthony Thomas, Director of Technology, Merced Union High School District
Trend # 5: Vaping Sensors
As you've no doubt seen in the news, vaping is becoming a serious problem for today's youth. Twenty percent of high schoolers use e-cigarettes, according to the U.S. Food and Drug Administration. So, how can administrators prevent vaping in schools?
One possible answer: vaping sensors. More and more schools are installing vaping sensors (think smoke detectors) in common areas where students might try to sneak a smoke, such as the bathroom. Already, school districts in New Jersey, Ohio, and Illinois are experimenting with this new type of technology.
An additional benefit to vaping sensors, according to CNN: they could help prevent bullying. In addition to detecting THC oil, some of these sensors can react to shouting and other abnormal sounds.
Trend # 6: More Cybersecure Networks
Last, but certainly not least, in 2020, cybersecurity will continue to be a pressing issue for school districts across the country. As hackers develop more and more insidious ways to breach data and slip malicious code into education-critical systems and programs, IT administrators are stepping up their defenses so that learning can continue uninterrupted.
Forbes recently published an extensive list of predictions for cybersecurity in the coming year. Many of them, unsurprisingly, are ones that educators should be paying attention to as well. Among them: the rise of deepfakes (videos that look convincingly real but are nevertheless manufactured) and the potential for states of emergency declared in cities due to massive malware attacks.
This makes protecting school devices and networks (and the students who use them) all the more important. One way to do that is through a dashboard specifically designed to protect K-12 learning environments through educational filtering, data management, and reporting tools.
Check back with the Kajeet Extracurricular blog throughout 2020 for more news and updates on these and all the other trends that are changing the future of ed tech in North America.