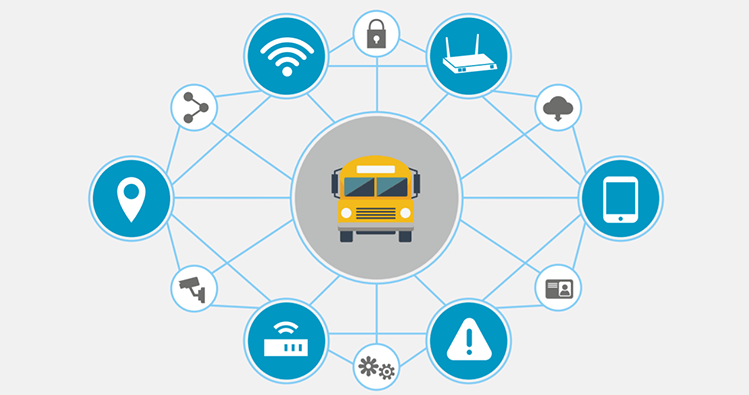 When you picture a school bus the first thing that probably comes to mind most likely is a big yellow bus driving around with noisy students in the back. Remember the kids who sat in the back of the bus?
And while over the years, the yellow bus and the student riders have not changed, the technology in it definitely has.
Today's school buses are inundated with technology, something nonexistent decades ago. This technology works together to create a safe environment for students, enhance the bus rider and driver experience, and improve the overall efficiency (and driving savings) for the school bus.
But in practice, it's not always so simple to implement tech. In fact, many school transportation directors now face a new challenge: How do you coordinate and connect all these technologies, tools, and suppliers on a moving vehicle, especially when your budgets are anything but unlimited?
You need a centralized device that can bring it all together.
The key factor to tie all this technology on the school bus together is Internet.
With WiFi on the school bus, districts get the access they need to keep moving forward in the connected world while saving money and expanding their capabilities to integrate any WiFi enabled solutions.
We will explore different types of technologies available in this blog, plus this Connected Bus report dives even deeper into each of the eight technologies.
Router
As the key piece to creating a connected bus, the router powers the bus with WiFi access. This needs to be a mobile ruggedized router specifically made for vehicles, that can withstand the bus environment.
Police and first responder vehicles, utility and service vans, all also use ruggedized routers. Plus these routers have the added benefit of connecting up to 128 WiFi students.
Student WiFi
It is estimated U.S. students spend a staggering 520 million school days on buses each year. Why not give students the opportunity to use that travel time to work productively on school assignments?
The Kajeet SmartBus™ extends the classroom to the school bus with safe, CIPA-compliant Internet access for students, along with:
Customized filters.
Usage and data reporting.
Four 4G LTE networks available.
Pooling and sharing data among buses.
Driver WiFi.
Our filters ensure students are safe while online, and not spending the district's money on entertainment or gaming. Watch this video to see the top 10 educational sites students visit when connected via Kajeet.
If you're interested in learning more about school bus WiFi, check out this blog post.
Global Positioning System (GPS) and Routing
GPS technology has become standard equipment in many passenger vehicles today, but it's still relatively new within the school transportation industry. A statement which is quickly changing as districts discover the myriad of ways GPS can improve bus safety, security, and tracking.
And there are plenty of reasons to have GPS on your school buses:
Individual and/or Fleet Current Location: Track and monitor the movements and locations of every bus in your fleet.
Individual and/or Fleet Historic Location: Optimize bus routes based on historic route and location data, which can help cut down on fuel costs, and give students time back from their bus ride.
Routing (Planned vs. Actual): Not only can you provide optimal routes for drivers, but administrators can see if they follow those optimal, safe routes. It can also include the most accurate maps of planned routes for drivers to easily follow.
Driver Tablet
In-vehicle tablets for drivers help increase driver accountability, safety, and efficiency. These devices allow drivers to streamline their daily tasks while providing dispatch with insight what's happening (or not) on the road.
"Our drivers were literally using printed-out directions and three-ring binders to keep track of student names, bus assignments, everything. Now, everything will be in the tablet so our drivers can pay attention to the road and not a stack of papers sitting nearby."

Cheryl Dalton, Director of Transportation, Saratoga Springs School District (NY)
Telematics
School transportation directors must stay on top of a range of issues affecting bus safety, performance, and reliability. Advanced telematics, which connect to all electronics on the bus and allow for the transmission of vehicle data back to the fleet manager, automate and enhance many of these manual or disconnected tasks.
Telematics have the potential to make school buses more efficient, safer, and easier to maintain than ever before, leading to a lower total cost of ownership.
Telematics track: start/stop events (i.e. hard breaking), engine diagnostics, fuel consumption, preventative maintenance alerts, and more. Again, detailed information on telematics can be found in the Kajeet report, "The Connected Bus: 8 Technologies for the Next Generation School Bus."
Camera (Inside & Outside)
By capturing audio and video of what's happening in and around the bus, cameras help promote driver and student accountability, as well as compliance with traffic laws (such as following stop-arm camera laws).
Here are a few features a school bus may use:
Archived Storage/Digital Video Recorder (DVR)
Real-Time Access
Illegal Passing Record
Automatic Video Download
Out-of-Band Management (OOBM)
Student ID Cards
As more and more school districts employ smart ID card systems to increase security, they're now bringing that technology onto the bus to improve safety, efficiency, and peace of mind for parents, drivers, administrators, and students alike.
Special bus cards are typically embedded with microchips that use radio frequency identification device (RFID) technology or near field communication (NFC) to log when and where a student boards and exits the bus.
Now transportation departments and school administrators can know if students were on the right bus and if they got off on the right stop. These cards can also be used to alert parents of where their child's bus is, letting them know when their child has got on or off the bus.
General Purpose Input/Output (GP I/O)
Today's school bus systems can leverage a variety of devices and sensors to improve child safety and optimize response time in an emergency. GP I/O includes notifications such as stop-arm, door-open, child-left-on-bus alerts, or alerting drivers if the top hatch or any windows are open.
Now school bus operators can be proactive if a sensor on the school bus isn't working, which can keep that specific bus on the road, reducing the need for a substitute bus and more time-intensive mechanical work.
Driving Your Unique Outcomes
Advances in technology have already transformed the traditional school system, and now it's extending to the school bus. All of these technologies (and more) work together to keep students safe, enhance the rider/driver experience, and improve overall bus efficiency.
The key to getting the best return on your bus investments is understanding how to bring it all together to meet your specific needs.
"My vision is once you get WiFi on the bus, you've taken out the limitations on most things," said Kevin Easley, director of transportation, Raytown School District, MO.