Original article found on Oklahoma City Free Press.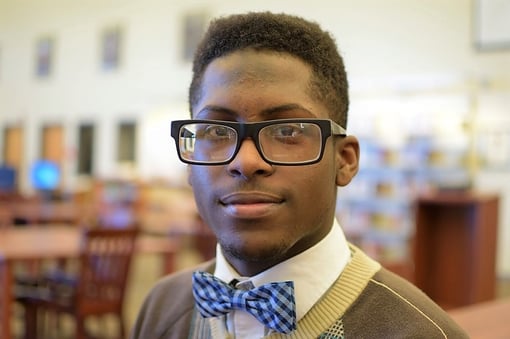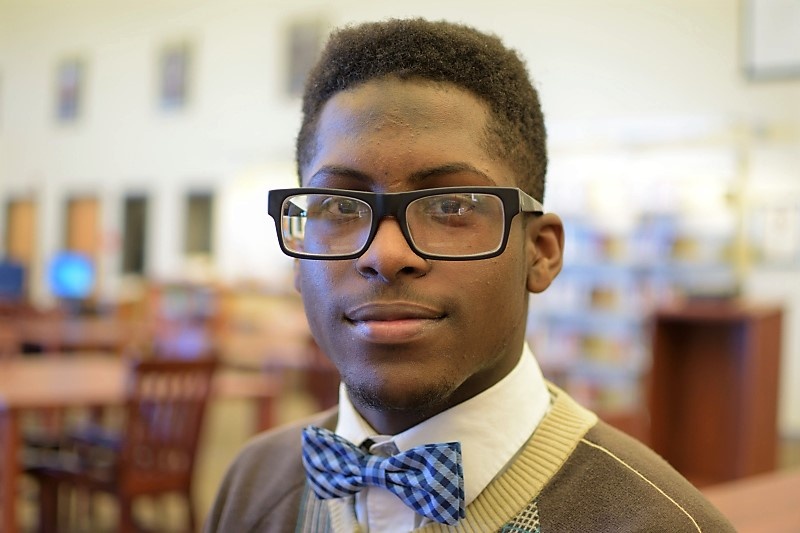 Jamarco Prim, one of the first students allowed to take home a hot spot. Source: Oklahoma City Free Press.
Jamarco Prim was one of the first students at John Marshall High School in Oklahoma City Public Schools to check out a new, small internet hot spot device Thursday. It will give him filtered access so that he can complete his school work.
"Mostly it's going to help me at home because I don't really have internet access at home, and I just run out of data on my phone," Prim said.
His is not a tragic case, but a hard one.
He told Free Press about what he is trying to achieve. And he also talked about what too often stands in his way: a lack of internet access.
He takes AP Calculus and is a fullback for the John Marshall Bears football team. His schedule results in a lot of time spent in practice and games, and a lot of time in study to learn AP Calculus which is taught at a college freshman level.
On top of that, he said he helps his mother care for his 15-year-old brother, 14-year-old sister and a 3-year-old sister after football practice.
Roll Out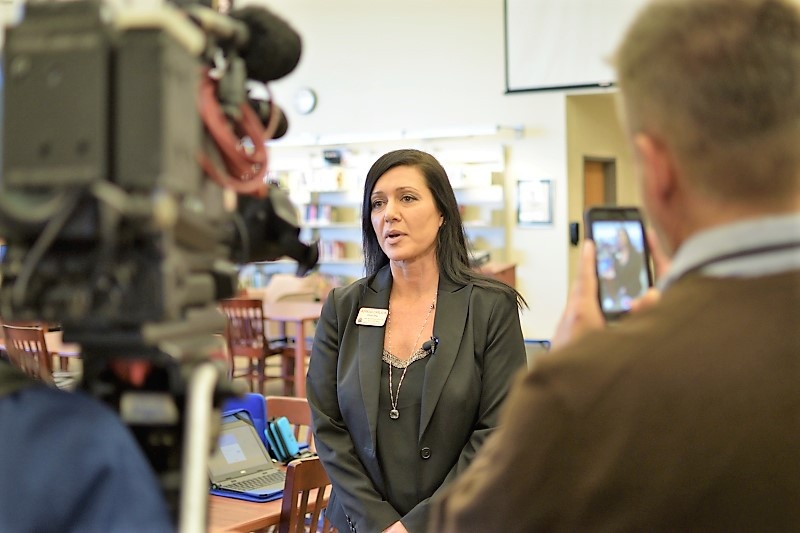 Aspasia Carlson, principal of John Marshall High School, speaking at a news conference on Thursday. Source: Oklahoma City Free Press.
And so Principal Aspasia Carlson and staff at John Marshall chose him as was one of the first students to start using the 100 new Kajeet brand internet hot spot devices Thursday.
John Marshall math teacher Niah Spriggs is in her first year of teaching after a 15-year career in accounting and finance.
She said the lack of access to data at home "really limits them, because even when I call the parents, the parents are like, 'I don't have a computer, I don't have internet' you know."
Spriggs said that up until now some teachers have just had to stay even later than usual at school just to give them access to the internet from the building because they didn't have access at home.
"This should be a game-changer for them," she said. "Even in math you just need extra help."
Niah Spriggs. Source: Oklahoma City Free Press.
First in Oklahoma
The hot spot devices are widely used throughout the U.S. in some very large school systems such as Atlanta Public Schools in Georgia.
But John Marshall is the "first school in Oklahoma to adopt these devices and use them," said Eric Hileman, executive director of information technology for the district.
Hileman said the first phase in school technology reform was to get schools equipped with technology so that there was "not a difference between the haves and the have-nots." He said it was termed "the digital divide."
"Now the new focus is on what is called the 'homework gap,' meaning that those who don't have access to the internet at home in this day and time are at a disadvantage compared to those who do," Hileman told Free Press. The term was coined by the Consortium on School Connectivity, a national organization of school technology leaders.
OKCPS started becoming a Google-connected district in 2014 and has been growing into full implementation of the full line of Google-related products for students and teachers since.
The Need
But as the district and all of society become more connected, there is a bigger divide between those who can be connected to the internet and those who cannot due to economic reasons.
Carlson said the percentage of students who are eligible for free and reduced lunches at John Marshall is 80 percent.
Thus, when she saw that there were "about 200" students in her student body of over 700 who did not have internet access at home, she took action.
Hileman gave the school high marks for their efforts.
"The district didn't choose John Marshall. John Marshall chose John Marshall," he said. "They saw the need and asked for the program."
Robust System
Carlson said John Marshall staff did a lot of research on other school systems that tried to get students connected at home.
They chose Kajeet because of the control their system allows for school managers of the program, durability, reliable connectivity of the data stream and ability to purchase the devices where several competitors only would lease them. OKCPS does not allow budgeting for leased equipment Carlson said.
The Kajeet system allows John Marshall staff to see how much time each student spends on their device. Staff also can see a complete log of sites the student visited and for how long on each. They can see which sites the student attempted to visit and were stopped by the filters applied to the system.
The internet filters used with the system match the ones used to protect students while using the internet at school.
Carlson said if a device is stolen or falls into the wrong hands, she can simply deactivate it, making it worth little to try and illegally sell. Thus, there is little incentive for anyone to use the devices for other than their intended purposes.
She said students will check out the devices in a similar fashion to the way they check out books from the library.
Written by Brett Dickerson. Founder, editor, writer, photagrapher: Oklahoma City Free Press.

Find him on Twitter.