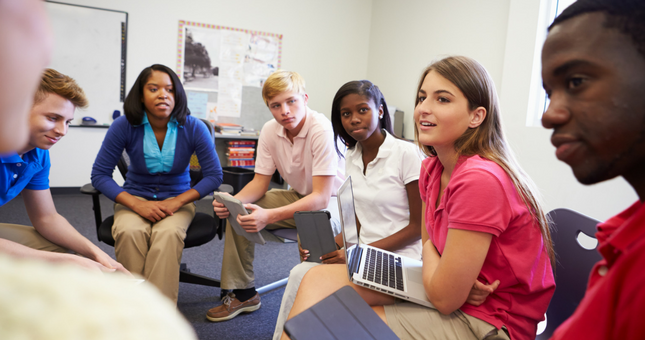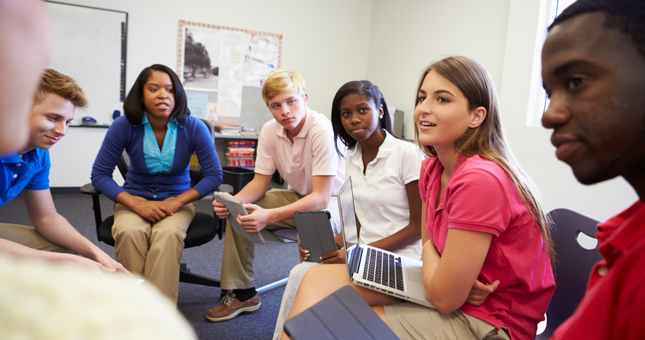 Advanced Placement (AP) courses provide high school students a more challenging environment and an opportunity to take on college-level work, with the potential to earn college course credit.
According to a College Board report, when compared to their non-AP peers, AP students who score a three or higher (out of five) on an AP exam typically:
Earn higher GPAs in college.
Perform as well or better in college courses in the same area as their AP class than non-AP students who took the introductory class in college.
Take more – not less – college work in the discipline.
Are more likely to graduate college within five years.
Have higher graduation rates.
The AP program has been around for over a decade. The latest AP Report to the Nation was released in 2014 and shares national and state-based data to help understand how the program is working, and what needs to be changed.
In their annual report, the College Board did note an equity gap in AP course and test participation for "traditionally underserved minority students." The report continued to state, "These students remain underrepresented not only in the AP classroom and in the population of successful AP students but also among Americans with a college degree."
So how is the AP equity gap being addressed?
AP Equity Gap
Even if low-income students attend a high school where AP courses are offered, they may not be able to afford the test or have access to the same tools as their more affluent peers.
Previously, states received funding from the federal government to help cover the costs of AP tests for low-income students. However, with the Every Students Succeed Act (ESSA), that specific program under Title I is cut. Now, 95 percent of a new funding under Title IV can be used to cover exam fees, but not every state will provide funding.
The College Board does provide an overall reduction fee of $31 to AP students who are enrolled or eligible to participate in the Federal Free or Reduced-Price Lunch Program.
Additionally, AP classes may require access to the Internet outside the classroom for students to conduct research, collaborate with peers, or take online practice tests. Five million houses with school-aged children do not have home Internet access, according to Pew Research Center. This includes high school students who lack the same connectivity that other AP students have.
Extending Access to AP for All
AP classes require more time than a traditional class, but without at-home Internet access, students are caught in a widening Homework Gap. Low-income students should have equal access, and the same chance to perform their best on the AP test.
Educators should help ensure all students are on a level playing field, and can do so by providing Internet access outside the classroom with Kajeet SmartSpot® devices. Filtered, Wi-Fi connectivity helps students in AP courses work on homework or study anywhere, anytime.
Things are looking up for low-income AP students.
The College Board report showed 58,489 low-income students took an AP test in 2003. Ten years later this number has increased by 217,375 for a total of 275,864 low-income AP test-takers.
Additionally, The Washington Post spoke with Trevor Packer, vice president, College Board, who runs the AP program. According to the article, Packer noted, "the average score on all AP exams has held steady from 2003 to 2016 despite the portion of low-income test-takers increasing from 9.5 to 21.8 percent. The average score was actually higher in 2016 than in some years when fewer students took AP."
Low-income students, when supported by their teachers and the right tools, can see success in their AP classes and tests.
Preparing Ohio Students for College
During the 2013-14 school year, only 50 percent of Cincinnati Public Schools high schools offered AP classes. With the district focused on equity of learning, administrators knew there were missed opportunities for many students.
This Ohio district decided to make a change. "We wanted to expand our AP offerings, so that more students have the opportunity to earn college credits early and experience more of the rigor they will face in post-secondary studies," said Laura Mitchell, deputy superintendent and chief academic officer, Cincinnati Public Schools.
They rolled out a comprehensive AP Blended Learning Program for advanced academic coursework and provided anywhere, anytime access with Kajeet to enhance their program.
"When we started the program, students could only access the curriculum between certain hours. That caused a problem for students who had after-school jobs, or students who wanted to study early in the morning. Now students have 24-hour access to the Internet," said Debra Crawford, blended learning coordinator, Cincinnati Public Schools.