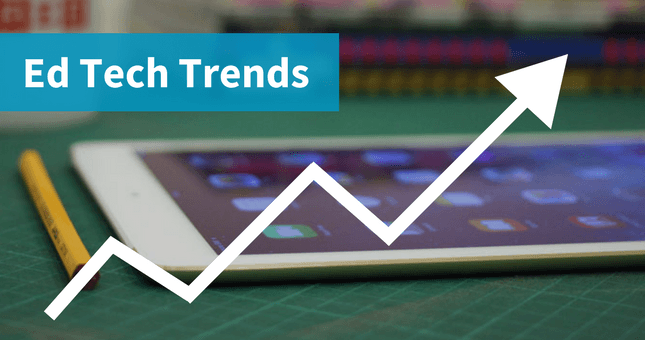 It feels like the school year just ended. But in a short while, students will be returning to classrooms across the country to begin another.
It's not just summer that passes quickly, though; so do developments in educational technology.
Earlier this year, we forecasted five big predictions for the ed tech scene in 2017. As we hit the halfway point in the year, it's worth looking back to see where the education industry is now – and to look at what educators can expect from the remainder of the calendar year.
It's also a great time for educators to consider how they should spend the rest of their summer. What trends and tools should district administrators, teachers, parents, and IT departments prepare for when their students go back to school?
EARLIER PREDICTIONS
In early January, we came up with five ed tech predictions for 2017. Our predictions were based on a 2016 survey by District Administration of more than 270 K-12 leaders. Here are those predictions:
Personalized Learning: One-to-one programs will continue to grow, making it possible for educators to tailor their curricula to the individual interests and learning styles of their students.
Makerspaces: Defined as active learning environments where students creatively solve problem-based challenges, makerspaces will become more important for open-ended exploration.
Online Homework: New educational software will help ensure that students turn in their assignments on time and also let teachers and parents know who's susceptible to the Homework Gap.
Virtual Reality: As the technology becomes more readily available, virtual reality will continue to permeate classrooms and offer another outlet for personalized learning experiences.
The Internet of Things: The age of IoT, as it's known, is on the way. Growth is expected in Wi-Fi structured systems built around everything related to school, including lights and thermostats.
WHERE ARE WE NOW?
So where do we stand halfway through 2017?
For help, we looked to an insightful survey by the Consortium for School Networking (CoSN) on ways education leaders currently use technology to change the field and provide more engaging and successful environments for students – ones that accommodate their strongest learning styles.
For five years, CoSN has conducted these surveys with the help of IT managers and leaders, noting that even in such a short amount of time the ed tech landscape has changed in unexpected, irrevocable ways.
"In the five-year span of the survey, revisions have been made to reflect changing IT initiatives," the report authors write. "There are major differences from the 2013 IT landscape. Questions about the use of Facebook and Twitter, for example, have been replaced by questions on more timely topics such as outsourcing and the use of OER [open education resources]. This year's survey includes new questions about personal use of online courses, peer-to-peer technology reviews, and interoperability."
THE SURVEY SAYS…
While you can read the full report here, we've consolidated some of the 10 key findings uncovered in this most recent survey.
Budget Concerns: For the third year in a row, budget constraints are ranked as the top challenge for IT leaders.
Staffing Issues: Only 13 percent of surveyed leaders say they have enough IT staff to meet the needs of their schools.
Diversity Woes: A lack of racial diversity among chief technology offers continues, with 90 percent identifying as white.
The news isn't all bad, however. The survey also found good news to report about the IT leaders working on the forefront of education.
IT Leaders are Forward-Thinking: General interest in OER initiatives is an increasingly important part of districts' digital content strategies.
IT Leaders are Intelligent: According to the survey, 77 percent of IT leaders have educational experience beyond a bachelor's degree (61 percent have a master's degree).
IT Leaders are Experienced: Seventy-three percent of the IT leaders surveyed have been in the field for more than a decade.
CHANGING TECH PRIORITIES
Each CoSN survey asks IT leaders to identify their top three technology priorities. According to the report authors, these priorities also reflect the changing landscape of educational technology.
For example:
In 2013, Bring Your Own Device (BYOD) was the top priority. In 2017, it's at its lowest ranking of importance ever.
Online assessments, a top-ranking priority in 2015 and 2016, dropped as a top priority for IT leaders, reflecting an increase in district readiness for important learning assessment exams and therefore a lower priority than earlier years.
The top three priorities IT leaders see for the future, according to the CoSN survey, are:
Mobile learning,
Broadband and network capacity, and
Cybersecurity.
MOBILE LEARNING: ALWAYS DISCOVERING
According to the survey, "mobile learning has proved to be a consistent priority, ranked in the top three for four of the five years, taking the top spot this year."
Mobile learning experiences are at the core of education and its future. Learning isn't just relegated to the classroom lectures or textbooks anymore. Now, students can communicate with teachers, complete homework assignments, and study for tests virtually anywhere they have Internet access.
With districts offering laptops, educational apps, and other on-the-go learning technologies, accessibility is of the utmost importance. When students can learn wherever – and whenever – they want, they'll be able to succeed outside the classroom as well as inside it.
One tool to help facilitate mobile learning: anytime, anywhere broadband Internet access.
After all, not all students have continual and reliable Wi-Fi Internet access. Some go to a babysitter's house or tag along with other siblings to sports practices and other activities. There's no one profile of a 21st-century student, which means instant connectivity can help level the playing field and ensure that all sorts of learners – visual learners, audio learners, unstructured learners – can keep up.
NETWORK CAPACITY: CRITICAL TO 21st-CENTURY EDUCATION
Frequently listed as one of the top three priorities, broadband and network capacity continues to be an important priority for IT leaders.
More students are using on-campus broadband to navigate the digital world. With the growing enormity of online tools out there, school districts must address the increasing need for bandwidth by more students. Students and teachers expect uninterrupted learning as they research topics and complete lessons.
Network capacity also extends beyond the classroom. As more school districts across the country make mobile learning initiatives the norm, students are required to complete digital homework assignments outside the classroom.
By improving the quality of and access to broadband in school districts, educators help improve students' digital skills. However, IT leaders need to work to create a solid bridge that can help students overcome the dangers of the Homework Gap. By partnering with Kajeet, schools can provide their students filtered Internet access outside of the classroom, whether through Wi-Fi hotspots or on the school bus.
The benefits of increased broadband capacity for school districts (both in and outside of school) include higher graduation rates, increased parent involvement, increased student engagement, higher test scores, and decreased behavior incidents on school buses. Plus, the better network capacity a school district has, the more it will be able to reap the benefits of cutting-edge ed tech tools such as virtual reality field trips and interactive makerspaces.
CYBERSECURITY: THE NEWEST TREND
Different to the CoSN survey this year is the third key trend noted by IT leaders: cybsersecurity. The trend shot up from last year's 10th place, now ranking at 3rd place.
According to the survey report,
The rise of the Cyber Security concern is not surprising. Malicious attacks and ransomware are not limited to high-profile companies and government agencies. Educational institutions are also being targeted. A recent study of IT infrastructures across various sectors actually found that "Education has the highest rate of ransomware…three times the rate of ransomware found in Healthcare and more than ten times the rate found in Finance.
Other explanations for the increased attention paid to cybersecurity in education are "the increasing number of reports about K-12 security breaches and the recent IRS alert about school phishing scams."
Thirty percent of the IT leaders surveyed found that digital privacy and student data security was "much more important than it was last year." This troublesome trend is quickly becoming top-of-mind for lawmakers concerned about the susceptibility of schools to hacks and cybercrimes, according to Education Week.
To help combat this threat, IT experts and school districts are using a variety of tactics. Some school districts, like one Florida school district, are purchasing cybersecurity insurance policies and working with identity protection firms. IT companies like Pivot suggest school administrators take a layered approach to cybersecurity that includes everything from next-generation firewalls and intrusion detection systems to online content filtering tools and advanced data encryption.
FIVE TOP-OF-MIND TRENDS
What other trends should be at the forefront of school districts' to-do lists this summer and fall? Jessica Leigh Brown of Education Dive has a primer on five of the top ed tech trends in K-12 education and how they're expected to evolve over the remainder of the year.
Move over, iPads: Not every school budget can afford an iPad for every student. Google Chromebooks, however? They're a little more budget-friendly, and they're quickly being integrated not only into major school districts but also rural districts, where they offer a more economically sound way for K-12 students to connect with mobile learning.
Toeing the Water: Sometimes it's better to ease into new ways of learning than to just jump right in. Education Dive notes a growing trend in blended learning, which means schools are incorporating online learning into more traditional educational models. It's a way for teachers, administrators, and students to get the best of the real world with the best of the digital one.
Sign on in Seconds: A big problem with the wealth of digital programs and applications out there is the number of usernames, passwords, and profiles they require. With single sign-on capabilities, students are able to more quickly and effectively access the various digital tools available in their school districts. (Bonus points: It's also great for easily introducing new users into a system.)
Hello, Apple TV: While iPads can prove to be expensive, Apple TV is increasingly becoming an invaluable tool when it comes to cloud-based multimedia and wireless learning solutions. As one IT leader tells Education Dive, "Teachers use [Apple TV] to go over lesson plans with students and play instructional videos, and students are able to connect and give presentations from their own devices."
Internet of Many Things: IoT is another growing trend Brown reports on and one we predicted back in January. According to her, schools are pulling IoT technology not only into security and energy processes but into the classroom as well. Two bold things she notes in her article are high-tech greenhouses (to help students study how plants grow) and high-tech headbands (to help students monitor how their cognition functions).
THINGS ARE LOOKING UP FOR ED TECH
While the future of ed tech learning is never set in stone, it helps to keep in mind where IT leaders and experts see the field going for the rest of the year.
Ultimately, it's about striking a balance–embracing new technologies like virtual reality while making sure to adapt to more behind-the-scenes challenges, such as the security of student data, that are increasingly posing a threat to how schools operate.
Whatever awaits the future of mobile technology, network capacity, and cybersecurity, there's more than enough reason to be hopeful. As Jason Palmer writes in EdSurge,
At this point, America's education system finally has all the key building blocks in place: The infrastructure is solid, almost every student has a device and wireless Internet access, schools and educators (at all levels) are now much more comfortable working with technology and data, and thousands of entrepreneurs are working—not just with early adopters, but increasingly with early mainstream schools and educators—to bring ed tech and personalized learning to the masses.
And as for those students who lack at-home Internet access, we know how to help them.
Did we miss an ed tech trend? Is your school implementing a new innovative technology this Fall? Let us know in the comments.