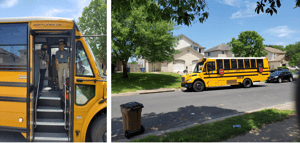 Austin Independent School District in Austin, Texas educates over 80,000 K-12 students in one of the fastest-growing metroplex areas in the nation. Its district leaders are always looking for innovative solutions to support young learners in its 129 school communities, 53% of which are eligible for free and reduced-price meals.
As Kris Hafezizadeh, Austin ISD Executive Director of Transportation and Vehicle Services, said in a recent STN webinar hosted by Kajeet, Austin ISD takes an "all means all" approach to addressing equity issues within their school communities. All students should have the tools they need in order to keep up with their peers and succeed.
As part of this mission, Austin ISD began working on a partnership with Kajeet months before the COVID-19 outbreak in which the company would provide Austin ISD with a $600,000 grant to outfit the district's 534 school buses with Kajeet SmartBus™ routers.
The Kajeet Connected SmartBus™ is a multi-carrier Wi-Fi solution, complete with robust education filtering through the cloud-based Sentinel® platform to ensure students stay on task. The solution is tailor-made for schools who seek to connect their students to Wi-Fi while they are on the school bus, as well as to boost bus safety and reduce behavioral issues.
On March 19, 2020, the partnership was announced, with the SmartBus™ routers set to be installed on the school bus fleet over Austin ISD's spring break.
Covid-19 response
The district's timing could not have been more fortuitous. Weeks after beginning the SmartBus™ deployment, the COVID-19 crisis hit the U.S. – forcing schools across the nation to close their doors and shift to online instruction in a matter of days.
Austin ISD had already been 1:1 with Chromebook devices for students in grades 8-12, and in the wake of this outbreak made devices available for students in grades 3-7 as well. That, however, did not solve the problem of the large student population who would be without adequate Internet access during this time – rendering their Chromebooks effectively useless to help them attend online classes, connect with their teachers, or complete assignments.
Aware of this vast equity issue, Austin ISD district officials put their heads together and quickly devised an immediate plan for the Wi-Fi-equipped buses. Within days, they began rolling out their SmartBus™-equipped school buses to Austin communities to be used as Wi-Fi hotspots.
"As we prepare for the possibility of extended school closures, we know that an Internet connection is a lifeline and a learning link for our students," Kevin Schwartz, Austin ISD Chief Technology Officer, said in the news release announcing the partnership with Kajeet.
District staff drew upon their decades of experience living and working in Austin to identify the areas that would benefit the most from this service. The Austin ISD team then dispatched 110 SmartBus™-equipped school buses out to these 16 initial locations for students to access.
"We are doing things we never thought about doing before," said Hafezizadeh of the district's COVID-19 response.
School buses as community wi-fi hotspots
In the way of logistics, the Kajeet SmartBus™ router is well-equipped for this use case. When SmartBus™-equipped school buses are parked in an open parking lot, the Wi-Fi signal reaches to a radius of about 300 feet around the bus (150-200 feet when parked in a more enclosed space, such as an apartment complex).
"These situations would most often be someone sitting in a car," said Schwartz, affirming that the school bus community hotspots are in strict compliance with social distancing requirements. Students are able to remain in their parents' or caretakers' cars and connect to the SmartBus™ Wi-Fi on their Chromebooks, thus accessing their distance learning instruction and getting schoolwork done in a safe and responsible way.
The SmartBus™ Wi-Fi name and password are displayed on signs posted in the school bus windows, along with reminders to visitors to remain at least 6 feet apart from one another and the bus at all times. To ensure safety around the vehicle and monitor the situation should any issue arise, Austin ISD sends at least one staff member with each school bus.
The buses have been open and available for students' use in specified locations from 8:00am – 2:00pm every weekday during the pandemic.
Speaking on this community Wi-Fi hotspot initiative, Hafezizadeh shared that "it has been nothing but positive – from our families, from our school officials, everyone."
Schwartz agreed, saying that "I anticipate that we'll make a few changes, and I anticipate we will expand this somewhat to meet our needs."
Looking to the future
While Austin ISD meets this current need, it also looks forward to the future and the new ways they will be able to put Kajeet solutions to work for their students as the disparity between those with Internet connectivity and those without it inevitably grows.
"We are excited to see the fruit of this once school starts again – hopefully, we open our doors and put our kids back on the buses," said Hafezizadeh. Once schools are able to return to a traditional classroom setting either fully or partially, the district will make this SmartBus™ Wi-Fi available to students on their commutes to and from school, as well as during field trips and athletic events. Whatever the future holds, Austin ISD will hold fast to their principal of 'all means all' and evolve to meet the needs of their students.
Featured photos courtesy of @AISDbuses and @burbank_shelton on Twitter.