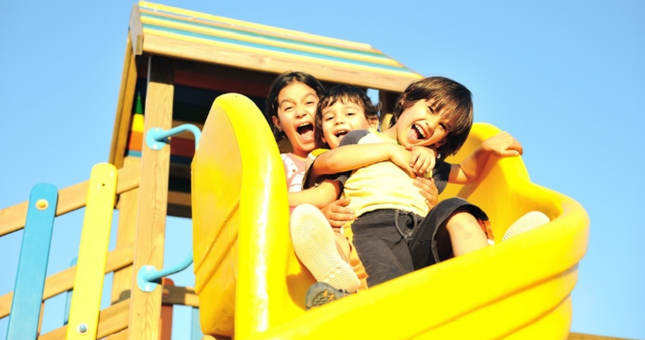 It's the end of the school year, and as students get ready for fun and relaxation, many educators across the nation are worried about one thing – the summer slide.
The summer slide occurs every June when students leave school hallways behind and, in doing so, say goodbye to daily educational learning. These summer months frequently lead to a loss of achievement gains made from that school year.
According to the Harvard Graduate School of Education, "On average, students lose approximately 2.6 months of learning in math over the summer." In addition, students tend to lose two months of reading achievement.
Digital Learning Saves Summer
But, as today's technology continues to advance, kids can still be students once the bell for summer vacation rings. Digital learning programs, especially games, allow kids to practice their math and reading skills during the summer. These games provide students visual connections between conceptual ideas and the game they are playing.
While many parents are concerned about excessive screen-time use, Douglas Clements, professor of early-childhood learning at the University of Denver said, "We have found that a focused five-to-15 minutes [playing games], just a couple times a week, can make a big difference for kids."
Adding in small doses of digital games can help students maintain their knowledge and skills they had gained from the previous school year.
Math in particular takes a hit during the summer, as many daily activities don't necessarily focus on math. Here are a few different free math programs educators can suggest for their students to keep their math skills over the summer:
Math Blaster: Created by Knowledge Adventure®, this is an online hub with an outer space-based theme that integrates math problems with games for Pre-K through sixth grade.
Cignition (Fog Stone Isle): This is an online virtual world to help students understand math conceptually with problems that adapt to the student's pace. Free for teachers and their classes – teachers must give their students a class code.
Coolmath-Games: Described as the "brain-training site" for students to use logic and thinking in combination with fun and games.
Reading is easier than math for parents to incorporate into daily summer activities. But it still needs to be a part of every child's summer.
Educators should encourage parents to bring their kids to public libraries for summer learning. For students who are not avid readers, the local librarian can help kids find books on their reading level that piques their interest. Many libraries also sponsor a summer reading program which rewards student readers. Parents can also encourage reading by sharing the newspaper during breakfast or reading (and making) a recipe with their child.
Additionally, there are digital games that students can play to keep their reading skills sharp during the summer. A few options include:
PBS Reading Games: Games featuring PBS kid show characters help students improve literacy.
Funbrain: Free educational games created for kids grades Pre-K through eight to help develop reading, problem-solving, and literacy skills. They also offer a selection of free online books.
(App) World's Worst Pet – Vocabulary: In this game the player must lead Snargg, a trouble-making alien, back home by identifying synonyms, antonyms, and definitions.
Looking for a one-stop site? Check out the ABCya! site which offers free, educational games based on grade level to help students work on reading, math, and strategy skills.
KEEP STUDENTS SAFE ONLINE ALL SUMMER LONG
It's also not enough to merely suggest students frequent those sites during their summer break. If your school or district sends devices home as part of a 1:1 technology program over the summer, or even BYOD, these educational devices should remain just that— educational.
How? Three words, one acronym: mobile device management or MDM.
An MDM solution provides filtering for websites based on category or URL, along with allowing or denying specific applications on devices.
If you want students visiting CoolMathGames to keep their math skills sharp, but stay away from non-educational games when using their school-issued devices, the Kajeet and Mobile Guardian MDM can do just that.
Even though summer is already here and devices may already be in the hands of students, it's possible to remotely install MDM on those devices, leading to a more educational summer, and a more engaged fall.
Equal Summer Access
You now have the educational tools, the control and oversight into student devices, but not all students have the same Internet access at home.
In fact, low-income students face higher overall learning losses in the summer when compared to their more-affluent peers.
Low-income students, on average, lose nearly three-months of learning during the summer; especially because they lack access to the same enriching activities compared to their more affluent peers. Students from low-income areas may not be able to attend summer camps, go on vacations, or visit museums.
Research by Johns Hopkins revealed, "by the end of fifth grade, poor children fall more than two years behind their middle-class peers in verbal achievement and one and a half years behind in math," due to summertime and families' lack of resources.
This learning loss only widens the achievement gap between affluent and low-income students.
Kajeet can help lessen the effects of the summer slide, and close the Homework Gap, with Kajeet SmartSpot® devices. Filtered, Wi-Fi hotspots provide access to students outside the classroom and throughout the summer. With Internet access, all students can practice their skills through online games and digital tools.
Not only will this help close the summer achievement gap, it will also save teachers time in the fall. Research shows two-thirds of teachers spend at least one month reteaching students old material from the previous school year.
Make sure all students can enjoy their summer and expand their knowledge outside of the school hallways.