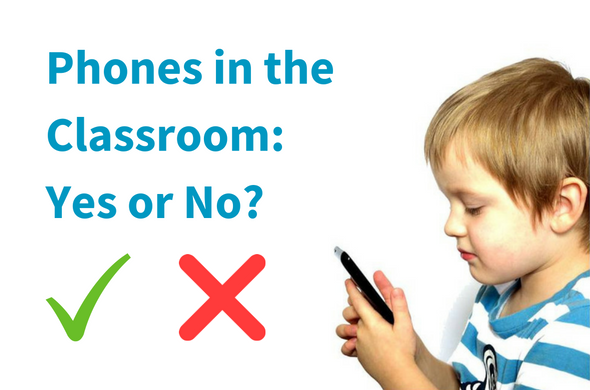 It's hard to believe that, not long ago, cell phones were a rare sight. Now, they're everywhere—including in our elementary schools. And their appearance in the small hands of the nation's youngest students has stirred a debate over whether educational technology has crossed a line.
Cell Phones: Tools or Obstacles?
The topic of cell phone use in elementary school classrooms is a contentious one. Some argue that cell phones will add unnecessary distraction and obstacles to learning. Others believe that cell phones have untapped potential as ed-tech tools.
One of the latest battlefields in this debate is at Montgomery County Public Schools in Maryland. According to a recent article by The Washington Post, the school district is mulling over new regulations that allow cell phone use in elementary school classrooms during lunch, or for potential classroom instruction.
And while the concept is spreading to other districts throughout the Washington, D.C. metro area, there's no one hard-and-fast rule about how to manage cell phone usage, according to The Washington Post:
In Loudoun County, elementary school students can bring cell phones to class (for emergencies).
In Arlington County and the District of Columbia, cellphone usage is up to individual schools.
In Fairfax County, cellphone rules vary by school (there's no outright ban on them).
In Prince George's County, cellphones and other portable devices are permitted across grades.
So why would cell phones be a potential tool for elementary school education? And what are some of the problems?
In Case of Emergency
Some school districts allow cell phone use in elementary schools in case of emergencies. Should some sort of family emergency occur where the student (or the parent) needs to be contacted as soon as possible, a cell phone in a student's pocket would go a long way toward making it easier for parents and children to stay in touch in the event of an illness or an immediate need to be pulled out of school.
Yet there are some issues school districts need to consider. For one, what constitutes an emergency, and if a student's cell phone is off during classroom instruction, how can a parent contact his or her child?
There's another issue to consider: Safety in the event of a school-wide emergency. Cell phones would make it extremely easy for parents to communicate with their children in the event this happens.
But it also comes with some drawbacks.
"Cell phone systems typically overload during a real major crisis," the National School Safety and Security Services reports, "and usage by a large number of students at once could add to the overload and knock out cell phone systems quicker than may normally occur. Since cell phones may be a backup communications tool for school administrators and crisis teams, widespread student use in a crisis could thus eliminate crisis team emergency communications tools in a very short period of critical time."
Engagement or Distraction?
Some proponents of cell phone use in elementary school classrooms argue that, with the increasing prevalence of mobile technology in middle and high schools, it's important that elementary school students begin to learn how to use mobile tech tools as well.
A 2015 Pew Research Center Study reported that almost three-quarters of teens surveyed have (or have access to) smartphones, and that 94 percent of these mobile teens use mobile devices to go online daily. Increasingly, teachers are incorporating mobile devices into their lesson plans for such things as in-classroom polls, private messaging with teachers, and SAT test preparation for high school students.
But for all the technological advancement and accessibility of cell phones, these devices can also cause numerous distractions to learning that could be just as detrimental to elementary school students (if not more) than to middle- and high-school students.
Psychologist and author Joni Siani expressed this idea to The Boston Globe:
"You'll get kids saying, 'I'll look something up for English, and while I'm here let me quickly check my Instagram or Twitter feed.' And then it's, 'Oh, I never realized this girl said that to me,' and now they're distracted and not really engaged with their lesson plan."
Alternative Solutions
Cell phones aren't going anywhere, and given their increased use among teens in school districts across the country, it's no surprise they would eventually trickle down to elementary schools as well.
Here are two alternative solutions district administrators, educators and individual teachers can use to better manage cell phone usage in elementary schools.
Set Hard Rules. The only way cell phone use in elementary schools can be the most effective, and least problematic, is by setting hard rules for when (and how) they're used. With rules, you can maximize the educational benefits provided by cell phones while minimizing the distraction of social media sites and text messages. Edutopia recommends establishing a "no cell phone" zone in your classroom with administrative support, policy reminders in the classroom, and (most important), minimizing downtime between learning activities.
Filter Internet Access. While teachers make the best possible filters of Internet usage, it's unrealistic to think they can keep their eyes on every student every minute of every day. Of course, schools filter Internet access while students are in the classroom, but for many districts the filters are set in place for when the students go home with school-issued devices. Solutions like the Kajeet patented educational filtering, allow schools to extend their filters beyond the classroom to ensure their elementary school students aren't accessing harmful and/or inappropriate material at home. Filtered Internet access allows schools and districts to:
customize the websites elementary school students can (and cannot) visit,
filter out inappropriate and non-educational content for elementary school students,
set times of day appropriate for use in elementary school classrooms, and
receive analytics and reports to help improve elementary school student achievement by understanding which sites they visit during the school day.
Cell phones might be a part of the school learning experience, but have yet to become an appropriate substitute for laptops and tablets for completing in- and out-of-class assignments.
And even if they get into the hands of elementary school students, they'll never be able to completely replace the magic of watching baby chicks hatch from eggs, finger painting with smocks and other elementary school experiences we all remember.
Discover how Kajeet is helping elementary school students in districts across the country use mobile technology as safely—and educationally—as possible.