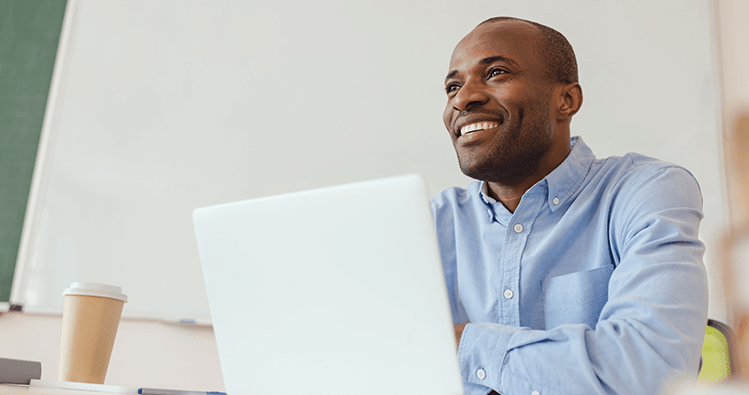 Mobile device management (MDM) is just for IT teams to handle and understand, right?
Wrong.
Read how an MDM can empower teachers to provide better learning experiences for their students, and not bog teachers down with additional technology to juggle in the classroom.
You can also sign up for our weekly Wednesday live demos for a more in-depth walk-through.
BUILDING AN MDM FOR TEACHERS
Kajeet is proud to announce our classroom content management is now better than ever, along with a new parent portal (but more on the parent portal later).
Picture yourself as a teacher (or if you are a teacher, picture yourself 😊) on a Monday morning, ready to take on the week.
But you teach multiple classes on different days, with up to 30 students (or more!) per class, and individual curriculum to manage per class, which quickly becomes complicated. Time for coffee.
Oh wait! You now have access to the Teacher MDM Dashboard. After logging in, you can easily see every class you teach.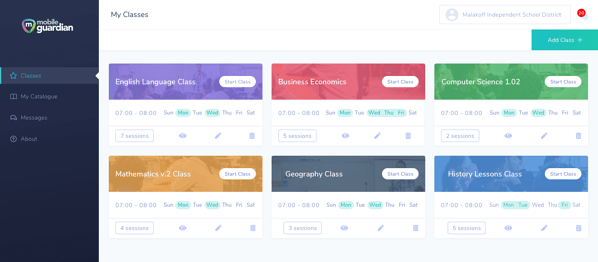 As you review your different classes, each has exactly the information you're looking for, including:
Students in the class. Easily add students into their respective classrooms so you can view screens, message, and more to those students who currently sit in front of you.
Device control in the classroom. Message students, see their screens, lock screens to bring attention to you at the front of the classroom and more – we go into details in the next section, "Easily Manage Students in the Classroom"
Content management. Add content tailored to each subject to students' devices or their content library. More on this feature in the "Classroom Content Management and Filtering" section.
Application management. Download applications you want students to access in the different classes to their devices.
But our walk through a day-in-the-life isn't done yet. Here's what you can do once your class has begun.
Easily Manage Students in the Classroom
The first bell has rung, and every student is in their seat (hey, it's still our imagination world, we can dream!).
Students start their assignments on their laptops or tablets and all is well, except for the one student who is giggling and starting to distract other students.
Without an MDM, you would have to go over to the student, tell them to get back on task, and walk away, sometimes needing to repeat this process.
Since you are already using your teacher MDM, you can:
Message students directly. Offer help to a struggling student who is embarrassed to ask a question in front of the whole class. (Or ask the giggling student to please focus and stop distracting their neighbors.)
View what tabs students have open. With the messaging capability, you can message a student asking them to close a tab that is off-task. If they ignore your message, you have the capability to close the tab through the MDM dashboard.
Lock student devices down into one application with single app mode. Ensure students remain focused on the task at hand.
Mirror devices. If a student is sharing their work with the class, you can simply mirror that student's screen across all devices or onto the main screen.
Prompt eyes up. A message will pop up on all students' screens to alert them that you, the teacher, needs their attention at the front of the classroom.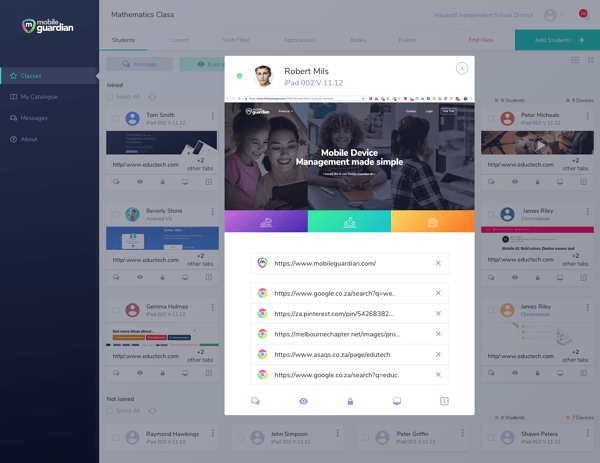 Classroom Content Management and Filtering
Now it's time for your next class of the day. Time to hand out printed versions of the material, quickly open the links you saved to your browser, and hope everything loads quickly.
Except we're now using our new teacher MDM.
Instead, you select your next class from your dashboard, and voila! The content you need for that specific class has already been carefully added by you prior to class.
With this dashboard, you can add content via:
Web URL.
Web clip.
Media (such as a video file).
YouTube.
Vimeo.
Let's say there is an app that you need students to access for today's lesson, no problem!
Teachers can also add applications, media apps, and digital books to their classroom. These apps can be set to automatically install on a student's device, so when they arrive to class there's no wasting time searching for, and downloading, an app needed for class that day.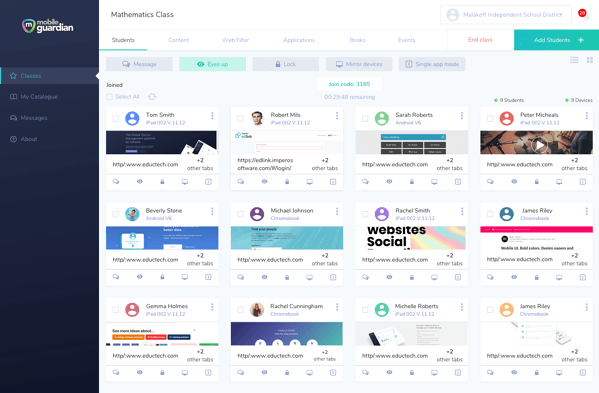 As we conclude our day-in-the-life, we realize (via the view student screen feature) one student is playing online Xbox games!
With web and YouTube filtering, teachers can set web categories to be blacklisted or whitelisted (bye, bye distracting games). Specific URLs can also be blacked listed or whitelisted. And you can toggle the YouTube filter on or off as needed for today's class.
Congratulations, another successful day of teaching has come to a close. See you tomorrow on your teacher dashboard!
Coming to a Device Near You
All of these great features are available via the Mobile Guardian MDM app. Teachers can conduct their classes via the app, just the same as a laptop.
ANDROID MDM UPDATES
The Android EMM (Enterprise Mobility Management) features have launched as well. Now on your Android devices with Android version 7.1 or higher, you will see:
Remote device management. Android devices can now be managed remotely. Push apps, send content, and update devices all within the Kajeet MDM dashboard.
Silent app installation. Applications can now be distributed across student devices without the need to collect devices and individually download apps to devices.
So now the teacher portal has been updated along with the school and district dashboard. But wait, there's more. With all of the new features, you may have questions, reach out to us and we will walk you through everything.
ENHANCED PARENT PORTAL
While education begins with teachers, it doesn't end at the final bell of the school day. Students have another main support system: their parents.
Our new parent portal ensures their student(s) have safe online experiences, every time. Provide parents controls and information to:
Easily add their child (or children) to their dashboard, and then,
Guide their child's online activity,
Know their child's location based on the device,
And set timing rules for when students can use their device
Restrictions can be set based on the child's age group, along with customizable filters and rules. Rules can be set per child, based on schedule and location. For instance, if a student routinely goes over to a friend's house after school, different filters from home can be set to ensure students only access appropriate content.
Plus, the parents can also manage their student's device from the Mobile Guardian Parent Application.
The Kajeet MDM ensures that wherever students are, at school, home, or somewhere in between, school devices are optimized for educational use to enhance the student's learning experience.
If you are interested in learning more about the Kajeet MDM solution, let us know!