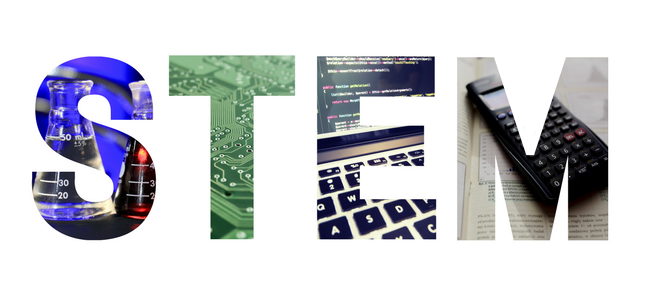 STEM (Science, Technology, Engineering, Math) has been talked about in the education world for years, and even recently it has changed to STEAM to add in the arts. But how can this trend pick up steam and truly engage young learners?
According to a recent STEM study, teachers and parents want to encourage and teach their children in the STEM field, but don't have confidence in their STEM knowledge to do so.
Multiple articles have shown that STEM education is important for all children. But before students engage in STEM-based learning in the classroom, they can start their learning at home.
So where does parent engagement come into play?
Parents and STEM-Insecurities
The Joan Ganz Cooney Center at Sesame Workshop study reveals many parents feel anxious or lack confidence in their own STEM knowledge; something that may be passed onto their children. STEM started becoming a widely-known term in the early 2000s, which was after today's parents were in school.
But, parents can help connect STEM learning in school to the home. The report emphasizes by continuing STEM education in the home, it will lead to STEM fluency for students.
This can help students in the long run, especially as the need for coding professionals continues to grow in the workforce. In fact, 10 of the 14 fastest-growing industries require STEM training, according to 100Kin10, a network supporting the national effort to get more STEM teachers into schools. And, the U.S. Department of Education reports STEM/STEAM jobs will grow by 14 percent from 2010 to 2020 in the U.S.
Parent encouragement at a young age can truly have an impact in the classroom, and beyond.
Encouraging STEM at Home
The report provides multiple recommendations to help parents encourage STEM learning at home, in order to expand to the classroom and help their students' critical thinking.
Engage Parents: They'll feel more confident introducing STEM ideas and projects to children if they have a better understanding of the topics and skills in the field.
Connect Learning: There's a web of 'charging stations,' says the report, that refers to teachers, parents, museums, libraries, and more that work together to help engage children in STEM in all aspects of their daily lives.
Ensure Digital Equity: Students need access to technology at home to continue their STEM education athome, while increasing their digital literacy. With educational Internet, parents can work with their children, helping increase their confidence in STEM.
Bottom line? Help engage the parents of students to create a connection to STEM from home to the classroom.
The report also goes beyond the home and recommends that the U.S.:
Supports improvements in early childhood STEM education by adding resources at the state and national levels.
Works to remove "pre-existing cultural attitudes" around the STEM field, including who can or should learn these skills.
Prioritizes research to identify gaps in STEM learning.
STEM in the Classroom
In order to complete the web of 'charging stations' (as referenced by the report), we need to discuss STEM in the classroom. The report emphasizes the need for schools to support teachers. This includes providing training and institutional support in order to increase teachers' understanding and confidence around STEM-based learning.
Since this report focuses on STEM for early education, here are four tips for STEM in a Pre-K classroom from a Texas district:
Create meaningful science experiences. Help young children explore the world around them in a way to create excitement about future learning.
Use engaging, age-appropriate technology. Remember their age, but provide technology in order to introduce children to devices in a mentally-stimulating way. This is especially important for children who don't have technology access at-home. (Something that may lead these students into the Homework Gap as they advance to elementary school and beyond.)
Encourage learning-by-doing. Use a comprehensive curriculum – again, that's age-appropriate – to introduce the sciences to these young learners.
Involve parents. Engaging parents is a common theme across STEM suggestions. When parents are engaged, they can continue the STEM excitement and ask STEM-related questions to drive conversation at home.
If you're interested in learning more about kindergarten readiness, check out this Kajeet success story. Lamar Consolidated Independent School District used Kajeet SmartSpot® devices to help prevent the 'summer slide' and ensure these young students were ready for kindergarten.
STEM in the Future
Where is STEM going to go from here? Well for starters, it's already taking on STEAM by adding in arts to tie in students' creativity.
The U.S. Department of Education released a "STEM 2026" report to share their outline for the next steps in STEM. Their vision includes: engaged and networked communities of practice; accessible learning activities that invite intentional play and risk; educational experiences that include interdisciplinary approaches to solving "grant challenges"; flexible and inclusive learning spaces; innovative and accessible measures of learning; and, societal and cultural images and environments that promote diversity and opportunity in STEM.
Whichever direction it goes, STEM is definitely here to stay. What tips do you have for using STEM in the classroom?