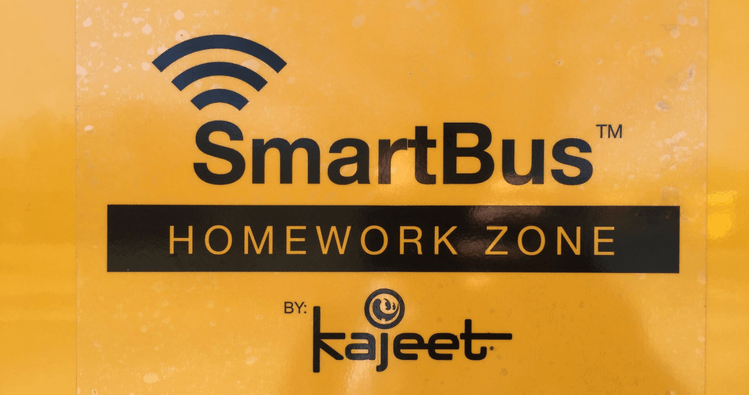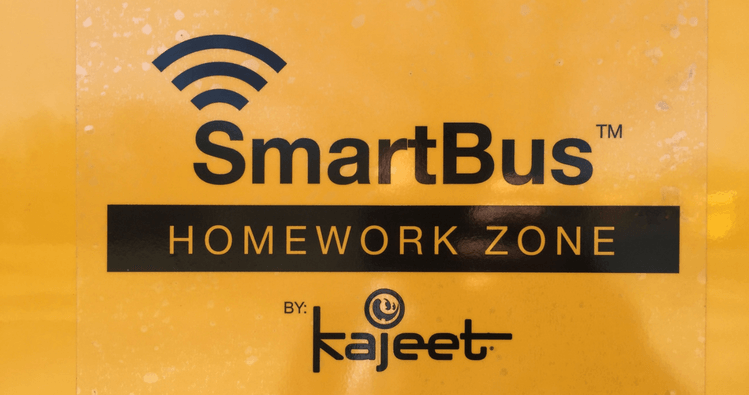 Riding the school bus is the start, or completion, of a school day. And now, with today's digital tools, it is easy to extend the classroom to the bus with filtered Internet.
But that might sound daunting, so we are here to help break down the process of school bus Wi-Fi.
Time on the School Bus
Picture a student's school day. For some it might start with walking to school or riding in a parent's car, however, for 26 million, it begins on the yellow school bus sometimes as early as 6 am.


Source: "Extend the Classroom with Wi-Fi on Your Buses," Kajeet.
The average bus ride is 20 minutes one way, equaling 40 minutes per day. There are 180 school days in a year, which means students ride the bus for 120 hours each year. To break that down, it's equivalent to 20 instructional days per year (based on a 6 hour school day), as depicted in the above graphic.
Factor in the time students spend riding a bus with the rapid growth of BYOD and 1:1 programs in school. Students now take digital devices home with them, often as a replacement to traditional textbooks and pencil and paper.
Providing students Internet on the bus is a great addition to the digital curriculum of today.
Why Wi-Fi?
Say that five times fast… An Education Week article addresses this question directly – why all school buses should have Wi-Fi. Here are five reasons:
Schools are struggling. Students in the U.S. remain behind students in other countries. As the author writes, "We need a solution to our academic shortfalls, and there's no harm in increasing a child's access to resources that only improve their potential for intellectual growth."
Finishing more homework. We are all aware of the Homework Gap, which has increased with the use of digital tools, and students who lack Internet access at home. Students can use the time on the bus to complete homework, and districts with tech on the bus have reported an increase in homework completion rates.
Students are overbooked. Today's students are inundated with activities, from sports, to academic clubs, to part-time jobs. Wi-Fi on board helps these busy students find time to get their homework done or catch up on school projects when commuting.
Wi-Fi on wheels can be cost-effective. Limiting Wi-Fi access to education-related content saves bandwidth to begin with, meaning there's no Netflix eating up schools' data. School bus Wi-Fi can also shift the cost burden away from the transportation department and toward instructional departments. If a school bus serves a Title I school, funding can be used as it serves an instructional service.
Reduce anxiety and improve behavior. Many students with behavioral issues need a distraction to keep calm, and other students have difficulty sitting still. Providing Wi-Fi gives all students something educational to keep their attention, instead of distracting one another or the bus driver.
Equipping Buses with Wi-Fi
Now, if any of the above reasons intrigue you, sit tight, and we will share with you how this is an attainable program for your school or district.
The Kajeet SmartBus™ solution extends the classroom to the bus. Author Matthew Lynch shares this idea in the Education Week article. Lynch writes,
"What if we treated school buses as an informal first period? What if our students' school days started the minute they stepped on their bus and took a seat? For some students, that equates to over an hour more each day of learning and productivity."
And that is exactly what Kajeet helps your students do, increase their learning and productivity through an everyday element – the school bus. Download the "Boarding the Bus" report to see how students use this Internet connectivity.
Here's how we turn travel time into instructional time:
CIPA-Compliant Customized Filters. That means any websites your students visit will be educational-only. Sorry Snapchat and Instagram fans, your followers will have to wait. Plus we block any inappropriate sites, ensuring student safety from unsavory sites.
Usage and Data Reporting. Our innovative cloud platform, Kajeet Sentinel®, provides reports on how students use their devices to connect to the Internet. The dashboard breaks out the total time spent, data used, along with top allowed – or denied – domains, giving you the tools to show your colleagues exactly how the Kajeet SmartBus technology is being used.
Pool and Share Data Among Buses. You do not have to purchase individual data for each bus. We pool the data to ensure students have the data they need on their ride home.
Ruggedized Router. A cloud-managed router provides connection for the entire school bus and its occupants.
Dual-Carrier Option. Kajeet is available on all four of the nation's major 4G LTE networks, which allows school districts to choose up to two carriers to connect their school buses. If one network's signal strength is weak, the other carrier continues to connect students, ensuring more uptime.

Here's an example of a school district in rural New York that connected its students on their school buses. The Kajeet SmartBus helped this district increase attendance rates and cut bus behavioral incidents, all while working to close the Homework Gap.
It is simple to turn your school bus into an extension of the classroom. Take your school bus into the 21st-century, and help those students who rely on their bus time to access the Internet and complete homework. Request a demo and see for yourself.