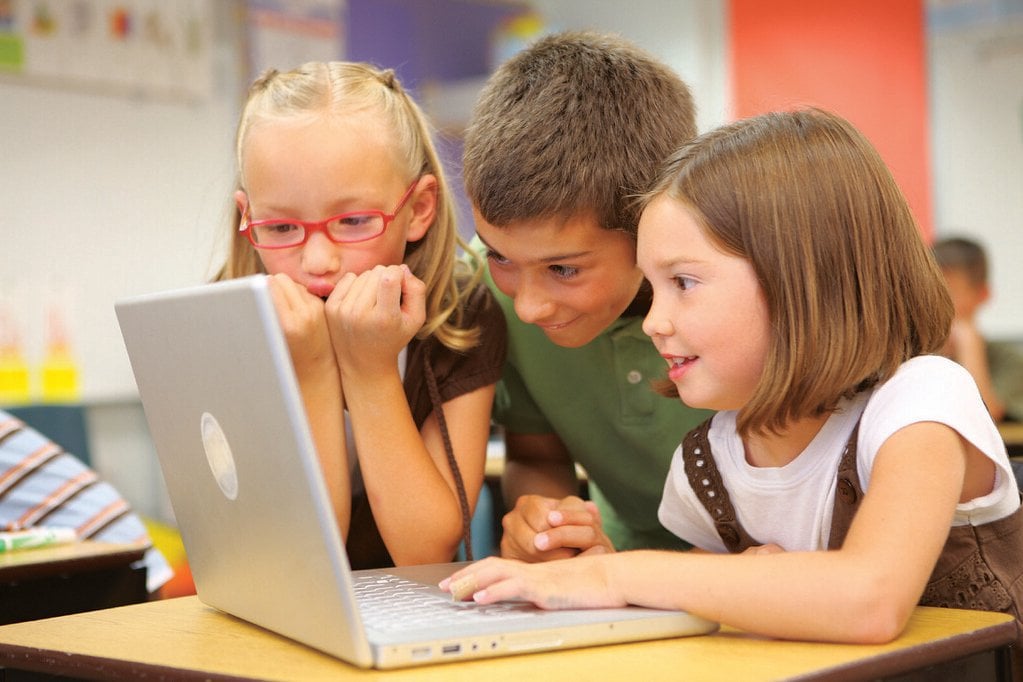 The American classroom isn't what it used to be. In just a matter of years, digital learning and access to digital tools have revolutionized how students learn about the world.
Computer games that offer fun ways to boost critical STEM skills; virtual reality tours that take students to far-flung places from the comfort of their desks; high-powered mobile Internet that keeps students connected on the bus or at home—these and other digital tools have made personalized learning a top priority in education.
And that priority is only going to keep growing. School districts from coast to coast anticipate a significant expansion in their online and digital resources in the coming years. The ultimate goal: to create more flexible instructional opportunities that improve student learning.
But even as school districts adopt digital strategies and improve their digital resources, there's still a lot of uncertainty about how to work with a digital curriculum. Here are a few things to keep in mind when thinking about initiating or expanding your digital curriculum:
Embrace Evolution
Making the most of a digital curriculum requires stakeholders at all levels to embrace the fact that education is constantly evolving and to plan to evolve along with it.
Writing in Forbes, Daniel Newman of Futurum Research calls attention to the importance of changing with the times. "We know that learning needs to continue to evolve and that technology and tools can help to enable that," he says.
The marketplace for educational technology—or any technology, for that matter—is always abuzz with new and exciting tools, gadgets, programs, and possibilities.
Staying nimble, and not locking yourself into old ways of teaching or developing curricula, is a great way to ensure your K-12 students are up-to-speed and prepared to learn.
Funding Problems
Deciding to boost the digital capabilities of your classrooms and school districts is one thing; finding the resources to make it all happen is another. That's why one of the most critical challenges to building a digital curriculum that emphasizes personalized learning is funding (cybersecurity is also a critical challenge that we'll be discussing later in this post).
Digital learning tools, programs, and initiatives aren't cheap. And when our current educational system requires teachers themselves to make investments in materials for the classrooms, asking a math or science teacher to pay for a 3-D printer out-of-pocket isn't the same as asking them to purchase graph paper or colored pencils.
According to a study by the National Center for Education Statistics that ran from 2014 to 2016, the average public school teacher spent $497 of their own money on school supplies for their classroom. And yes, that's without any form of reimbursement.
What this means is that school districts with more money tend to get farther ahead than those districts that don't have the funds or resources to support developing a robust digital curriculum.
And when school districts get left behind, so do students.
Security Threats
Then there's the issue of cybersecurity.
Digital curricula require fast, reliable Internet connectivity in the classroom—and at home. What they also require is a plan to keep students and educators safe from cyberbullies, malicious hackers, phishing attacks, and other digital security threats.
Here are a few stats Ed Tech Magazine recently uncovered:
Since 2016, there have been 712 cybersecurity incidents involving U.S. public schools. (At least, 712 that we know of.)
In 2018, 122 cybersecurity incidents occurred at 119 public K-12 education agencies. What that translates to is about one incident every three days.
In 2018, over 60 percent of K-12 data breaches involved student data. Data breaches can also give malicious actors access to staff data, including payroll records.
These eye-opening statistics mean that any school district looking to make the most of its digital curriculum has to make security a top priority.
After all, even with the increase in online learning, as Newman reminds readers the Internet is still "a wild mess of content."
Affordable, Secure Tools
So if affordability and security are requirements for personalized learning in digital spaces, how can school leaders ensure a solid ROI on the time and money they spend on resources for their digital curriculum?
Ed Tech Dashboards. Supporting student-used Internet access through a dashboard system is a win-win for students and administrators. School faculty can easily monitor and manage how students are using the Internet, and students can also avoid accessing parts of the Internet they shouldn't—keeping their focus always on learning.
Data Analytics. User-friendly analytics tools can access data on digital devices in real-time. Whether students are using school-issued laptops at home or apps in the classroom, school administrators can keep a sharp eye on whether or not a particular initiative is producing the results that'll make it worth the investment.
LTE Chromebooks. It's getting to a point where every student should have their own laptop specifically for schoolwork. Unfortunately, this remains a problem for many school districts in low-income parts of the country. Affordably priced at just under $390, LTE Chromebooks are ideal for making personalized learning possible for all students.
The good news is that there are plenty of tools out there designed with affordability and security in mind. You don't have to sacrifice one for the sake of the other.
The Future
The future is bright for digital learning. Newman envisions more innovations in ed tech, including a future where the emphasis will be on transparency and parental control.
He adds: "We'll also see a greater emphasis on things like digital credentialing through blockchain and two-factor authentication to ensure that all students are kept safe, wherever they may be accessing the content that fits their needs."
Predictions aside, the future of education is here—and it's digital. The only question is whether or not your school district is prepared to meet it head-on.