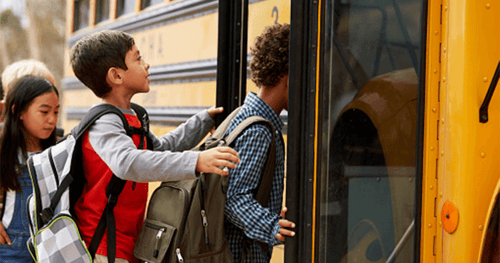 Kajeet is proud to announce its work with Google to provide filtered WiFi access on school buses for Google's Rolling Study Halls program. This Google initiative is designed to transform the school bus into an extension of the classroom by providing students with devices to take home as part of a 1:1 program and filtered WiFi on the school bus powered by the Kajeet SmartBus™.
Google will be using the Kajeet SmartBus solution to connect Rolling Study Hall students with its CIPA-compliant Kajeet Education Broadband™. After piloting the initiative in two districts in 2016, Google announced additional the Rolling Study Halls will be deployed in 12 states this year.
Good Morning America covered the Rolling Study Halls program in Tennessee about how filtered school bus WiFi allows students time to complete homework to and from school, and how it improves the bus driver experience. Check it out here!
Extending the Classroom with Kajeet
Last September, a director of educational technology moved forward with an innovative idea on improving digital equity. Jay Salerno with Newington Public Schools in Connecticut launched a technology bus this school year, with the Internet connectivity powered by Kajeet.
Salerno gutted and outfitted an old activity bus with technology such as WiFi hotspots, Chromebooks, Google Expeditions, coding and programming, makerspaces, and more. But this technology bus is not just for his school district. The purpose is to also spread technology to neighboring communities who don't have access to cutting-edge technology.
Beekmantown Central School District, a rural district in upstate New York, started a digital literacy initiative. After surveying students and discovering 30 percent lacked Internet at home, combined with long bus rides home, Beekmantown determined Kajeet would provide the additional educational access their students needed.
Gary Lambert, Beekmantown's Director of 21st Century Learning, promised to outfit school buses with Wi-Fi for students who are on the bus for up to an hour each day, along with students who participate in school-sponsored athletic events with an hour and a half ride each way.
Beekmantown saw 100 percent of its senior class graduate, attendance rates increase, and disciplinary problems slashed in half. Lambert attributed this success to a combination of factors, including the digital initiative and their partnership with Kajeet.
Raytown C-2 School District in Missouri began piloting their SmartBus program with six buses a year ago. Students were able to work on their creativity and collaboration skills, homework, review materials for tests, and more, all during their morning and evening commutes. For those students involved in activities or athletics who travel often, they can complete assignments while on the road. Additionally, the Kajeet filter mirrors the school district filters to protect students from harmful materials and remove access to social media sites.
The students were not the only ones to benefit. Bus drivers who participated in the pilot reported a 48 percent decrease in discipline reports. Raytown has now expanded the Kajeet SmartBus program to their entire fleet, opening up more opportunities for students and families across the district.
Driving Innovation on the School Bus
Since launching in 2015, the Kajeet SmartBus continues to innovate, providing students and transportation directors the connectivity they need.
Students can connect on any of the four major U.S. wireless networks.
And the new SmartBus with Dual Connect™ feature allows school districts to connect up to any two wireless networks at once to provide consistent and reliable connectivity for students. If one network loses signal en route, the router will remain connected to the stronger network. School districts can choose the carrier – or carriers – that provide the strongest coverage in their area.
Kajeet will continue extending the classroom to the school bus with filtered, educational Internet access. Our goal is to provide students additional educational hours, and administrators with the tools they need to connect their school bus fleet to the latest technologies.