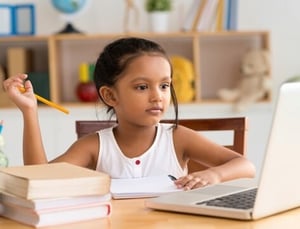 Lamar Consolidated Independent School District (CISD) educates 30,800 students in the Houston, Texas, area, where 40 percent qualify for free and reduced-cost lunch.
In 2013, Lamar CISD was struggling with an issue many districts face: How to equip rising kindergarteners with the skills they need to be successful, especially in the absence of a universal preschool program. Struggling students who lack early-reading skills are at a disadvantage when they enter kindergarten, and the achievement gap only widens as students continue their school careers. It is imperative to reach these students early and ensure continued support from one school year to the next.
An additional ongoing challenge, even with students who have been enrolled in preschool or have made significant strides in their kindergarten year, is that many lose ground over the summer without daily reinforcement of their new skills. While technology offers ways for children to continue to learn over the summer, traditionally it has been difficult to stay connected with the families and track what's actually happening.
"Most students are ready for kindergarten when they leave preschool, but then the summertime hits, and we don't know what we're going to get in the fall."

Mandy Bryan, Coordinator for Title I Special Projects, Lamar CISD
This "summer slide" is what she and Chad Jones, Director of Technology Development, were looking to prevent when they founded The GROW Project.
"Mandy came back from a conference and asked, 'What would happen if we identified the preschoolers who needed the most help before heading into kindergarten, and then we gave them each a laptop, Internet access, and access to an online reading program for the summer?'" Jones says. "Since we had computer carts going unused over the summer, we figured out a way to make it happen."
Kajeet: A Perfect Partner
Lamar began by identifying 50 students at their Early Childhood Center who were in need of reading assistance. The plan was to outfit these students with a repurposed laptop, an online early-reading curriculum provided by the Waterford Institute, and weekly check-ins with a teacher. With this plan in place, Lamar CISD launched The GROW Project, hiring the faculty and purchasing 50 Kajeet SmartSpot® devices to provide the students with Wi-Fi Internet access. With their CIPA-compliant, education-only filtering, these hotspots would also ensure inappropriate and non-education content could not be accessed.
"When we came up with this crazy idea to send laptops home with four- and five-year-olds, we investigated a lot of different options," Bryan says. "It was wonderful that we were able to connect with Kajeet. The Kajeet filters have been a huge factor in getting family buy-in. Parents know we are paying attention and that we respect the fact that they don't want negative influences in their homes. We can say to parents of four-, five-, and six-year-olds, 'We're providing the Internet, but it's filtered Internet.'"
Surpassing Its Original Goal
Though the primary purpose of The GROW Project was to prevent summer slide, the results of pre- and post-testing showed the program accomplished much more. Not only did students not lose ground over the summer months, they showed marked gains as well, especially in vocabulary and comprehension.
"The goal of the program wasn't to increase students' skills; the goal was to help kids not regress over the summer, " Jones says. "That really highlights the success of this program: Not only do you not have that summer slide, the students actually grow academically over the summer. We have continued to surpass our goal by helping kids continually progress rather than stay where they are."

Chad Jones, Director of Technology Development, Lamar CISD
Parents and teachers alike were delighted with the progress their students made. In the second year of the program, families returned, not just with younger siblings now old enough to participate in the pre-kindergarten program, but with their rising first-grade students who were eager to continue their progress.
Quadrupled Growth and a New Initiative
For two summers Lamar CISD continued to operate GROW Project at its original size of 50 students. Keeping the project small and offering it to families on a first-come, first-served basis ensured that adjustments could be made as needed and increased the likelihood of active family participation.
The GROW Project proved so successful in its first two years that last summer it was quadrupled to reach 200 rising kindergartners and first graders.
With the summer program off and running, Jones and Bryan began looking for ways to put the laptops and Kajeet SmartSpots to use during the school year as well. They found the perfect opportunity, this time focusing not on struggling kindergarteners but on high-potential juniors and seniors.
The Curriculum and Instruction Department was already working on a new program at the high school level that provides first-time AP students at Title I schools with the technology and support they need to be successful in AP courses. Through Equal Opportunity Schools, Lamar CISD was able to identify high school students who qualified for Advanced Placement (AP) courses but, for a variety of reasons, had never taken on that challenge. Using the laptops and SmartSpots from The GROW Project, they partnered with the Curriculum and Instruction Department to launch an AP Technology Checkout program in conjunction with this project.
Access to devices and the Internet can make all the difference for students who are embarking on these difficult courses for the first time, and taking the classes has proven benefits. Data shows that students who take at least one AP class are significantly more likely to be successful in college than those who don't, regardless of whether they complete the AP exam. It's the experience itself that makes the difference, giving students the confidence to recognize that they do indeed have the skills necessary to be successful in college.
Bryan and Jones say that, again, the Kajeet SmartSpots provide essential value to this program beyond an ordinary Wi-Fi provider.
"When we look at the Kajeet dashboard, for example, we can see the sites students are visiting. They're going to the college board sites and their online textbooks—things they otherwise wouldn't have access to or that they would only have access to on their phone," says Bryan. "So many families say they have Internet access at home, but it's limited to a mobile device."
Jones adds that there's peace of mind that comes with using Kajeet SmartSpots.
"We've set it up on our end so that the computers can only join two networks: Our school network and the Kajeet SmartSpot. We can feel comfortable that when the devices come back onto our network, the likelihood of them having a virus is minimized. And it makes it easier on us as far as talking to students about why certain pages can and can't be accessed."
Looking Forward
At heart, the AP Tech Checkout program and The GROW Project are extensions of the same mission—providing support and resources for all students, from pre-k through graduation, helping them overcome challenges and reach their full potential. Lamar CISD looks forward to increasing the scope of both projects as funds allow.
Meanwhile, Lamar has purchased an additional 150 SmartSpots and is experimenting with the best ways to put those to use for its students, implementing projects in middle school, special education programs, and beyond.
They are also actively seeking ways to educate teachers, parents, and students about the resources that are already available to them—because with any technological or educational initiative, access is important, but communication is key.