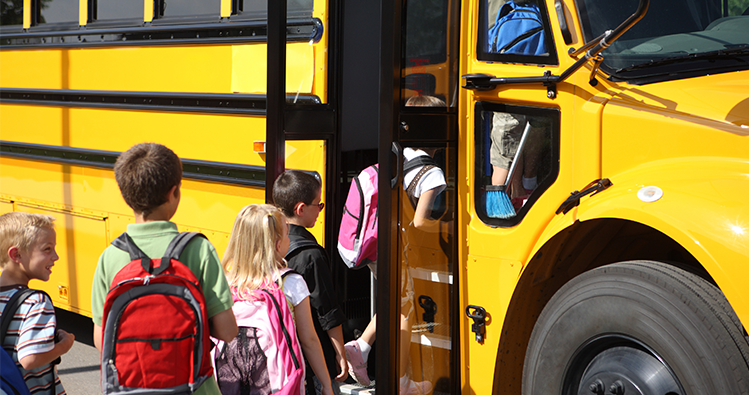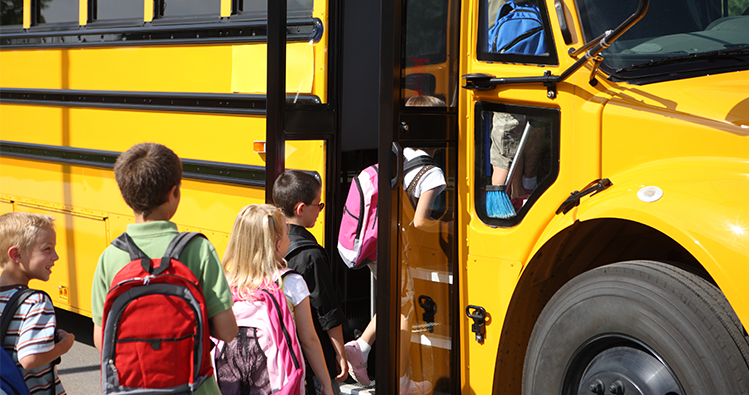 Did you know that September is officially designated National School Bus Safety Month from a unanimous U.S. Senate vote?
School Transportation News (STN) reports, "[The bill] encourages broadcast and digital media, plus social networks, to disseminate public service announcements about how school buses are designed to safeguard children. It also highlights the roles of school bus drivers and student transportation professionals."
Now we have National School Bus Safety Month in September followed by National School Bus Safety Week in October, which the National Association for Pupil Transportation (NAPT) uses to promote school bus safety. This year, National School Bus Safety Week is from October 21-25 and the theme is "My School Bus, the Safest Form of Student Transportation!"
School buses are a huge part of the school day (bus pun intended). So in honor of National School Bus Safety Month (and the upcoming Safety Week), here's what you need to know about bus safety.
School Bus Safety: The Facts
Now is a great time for a refresher on school bus facts in the U.S. The Senate bill highlighted many of the major facts, including:
School buses are the largest mass transportation fleet in the U.S.
Approximately 500,000 public and private school buses carry more than 26,000,000 children to and from school (you read that right, 26 million!).
48 percent of all K-12 students ride a school bus for 180 school days.
School buses drive nearly 4,680,000,000 miles per year.
The National Highway Traffic Safety Administration (NHTSA) states on the homepage of their website: "The school bus is the safest vehicle on the road—your child is much safer taking a bus to and from school than traveling by car."
NHTSA is most often quoted with the fact that, "Students are about 70 times more likely to get to school safely when taking a bus instead of traveling by car." Here's why:
School buses are designed for safety: Yellow was not chosen because it is a happy, sunny color. The color was chosen because it attracts attention quickly and is easier to see from the peripherals. Other outside safety features include flashing red lights, cross-view mirrors, and stop-sign arms. Inside, school buses are equipped with "compartmentalization" seats with high crush standards.
The law protects school buses: It is illegal for drivers to pass a school bus while dropping off or picking up passengers.
Unfortunately, just because the law protects school buses doesn't always mean people comply. In fact, the National Association of State Directors of Pupil Transportation Services's (NASDPTS) annual survey revealed approximately 17 million stop-arm violations occur each school year in the U.S.
Some states are taking action to address stop-arm violations. Currently, 16 states allow their school districts to place cameras on the school bus stop-arm to capture images and issue tickets for drivers who illegally pass a stopped school bus.
As you can see, school buses have a large impact across the U.S. Here are tips on what parents/guardians, educators, and transportation departments can do to ensure student safety on the school bus.
Tips for Keeping Students Safe…
There are a lot of tips on how to keep students safe at the bus stop as a parent or teacher, such as:
Walk with young kids and wait with them until the bus arrives.
Teach students to wait for the school bus to come to a complete stop before getting off the bus, and then take five giant steps in front of the bus before crossing.
Teach students to never walk behind the bus.
These are just a few examples, as bus stop safety is of the utmost importance.
Another important factor that can help with student safety is improving their behavior while on the bus. Raytown School District in Missouri tested a new tactic: school bus WiFi. They found that after their Kajeet SmartBus™ pilot, the number of disciplinary referrals dropped 45 percent!
Another tactic educators can employ for student safety is student RFID (radio-frequency identification) cards. If each student has an RFID card, they can scan their card to get onto the bus each morning and afternoon. Then, the bus driver can confirm the student is on the right bus and gets off at the right stop.
In a 2018 STN and Kajeet survey, 14 percent of school transportation professionals reported currently using student ID cards, however, 30 percent are considering adding them to their fleet in the future.
Find out if your school district has the bus technology it needs for a safe bus rides. Access the Kajeet Bus Technology Checklist here!
RFID cards can also provide critical information to school offices and parents to know the location of their students. And for the question of privacy, RFID cards come with a barcode number that is secured and only accessible by the school district or the parent (and their child).
…and Informing Parents of Their Child's Location
The second piece of student RFID cards is providing insights to parents so they know where their child is while traveling. This can cut down on multiple safety issues, such as:
Ensuring students get on the right bus every day (and if they don't, at least knowing which school bus they are on).
Alerting parents when the school bus is close to arriving so they or a guardian will be there waiting to pick their child up.
Cutting down on the number of parent phone calls to the front office asking where their child's bus is, while increasing the school's ability to accurately answer that question.
Whether it's National School Bus Safety Month or Week, or any other month of the school year, school bus safety is critical. Technology, such as student RFID readers, can help keep students safe.
Let us know how your school or district is celebrating National School Bus Safety Month! Follow us @Kajeet and tweet with the hashtag #SchoolBusSafetyMonth and be entered to win!