There are currently five Automated Insulin Delivery (AID) systems approved by the FDA for patient use (and there is a vibrant DIY sector in which users hack into software to make insulin delivery more efficient). This sector drives innovation with the aim to provide a much better user experience than traditional insulin delivery methods such as pens and injections, inhalable insulin, and other wearable devices.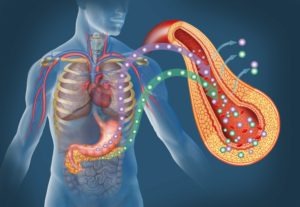 The Artificial Pancreas Device system that sought to simulate the functions of the pancreas, regulating the body's insulin levels in response to rising or falling blood glucose, is now referred to as an Automated Insulin Delivery (AID) system. A hybrid closed-loop system still requires the user to interact with it from time to time, changing settings and administering insulin manually at times. But in AID, or closed-loop systems, if blood sugar glucose is rising, the system recognizes the change and increases insulin delivery automatically. Conversely, if blood sugar levels are falling, the system would recognize the trend and reduce or suspend insulin delivery.  This is done by combining the real-time glucose readings from a continuous glucose monitor, or CGM, with an insulin pump's predictive algorithm — a mathematical set of rules that give the pump parameters for when to administer or stop insulin delivery. This is called automated insulin dosing.
Rather than frequent finger pricks followed by injections of insulin, users can wear a combination of devices: the CGM and the insulin pump, regulated by a smart algorithm, that will automatically test subcutaneous, interstitial fluids throughout the day (the CGM does this) and then deliver insulin to the body (through the insulin pump).
FDA-Approved Automated Insulin Delivery Systems
In September 2016, the FDA approved the first "artificial pancreas" for Type 1 Diabetes. It was Medtronic's MiniMed 670G. Medtronic has since improved upon it, with the MiniMed 770G. With the new model, users can view, share, and automatically upload insulin and CGM data directly from a smartphone. Insulet manufactures the OmniPod DASH, the only tubeless insulin pump. It was the fourth AID system to be approved by the FDA, in January 2022. Tandem Diabetes makes the t:slim X2, which, like the Medtronic devices, can connect to a smartphone app. As recently as January of this year, the FDA approved the Tidepool Loop system. It's the first DIY AID system to be cleared by the FDA. It's a CGM, insulin pump and the Tidepool Loop algorithm, which is interoperable and can be controlled by an app downloadable onto iPhones and the first AID system that controlled by an Apple Watch. Although it is not currently unavailable on Android, the company is working on making available in that operating system.
With their research and innovation, these companies contribute immensely to improving the lives of those living with diabetes. Upwards of 50 companies around the world are currently working to bring noninvasive glucose sensors to the market. Currently, the pump and CGM still must pierce the skin through a small, subcutaneous cannula.
New and Noteworthy: Dexcom G7 Continuous Glucose Monitoring System
AIDs combine three to four components: an insulin pump, a CGM, a software control algorithm, and sometimes a cell phone app or dedicated device. On that note, Dexcom is launching its G7 Continuous Glucose Monitoring (CGM) system mid Feb. 2023. The device delivers 24/7 real-time glucose readings to a smart phone, without finger sticks, scanning, or calibrations. This is a game changer for diabetes patients who need to rely on accuracy and convenience to manage their care with confidence.
One other important thing to note: Tax incentives and other policy initiatives may be on the near horizon. They already exist in other places. In Canada, for example, there is a Diabetes Disability tax credit available.
The federal government here in the US is beginning to recognize the importance of addressing rising rates of diabetes. Congress passed a law in 2017 creating the National Clinical Care Commission (NCCC), to advise Congress and the Department of Health and Human Services (HHS) regarding how to leverage and coordinate federal policies and programs to prevent and control diabetes. In January 2022, the NCCC submitted a report to Congress, in which they detailed a framework for diabetes prevention and control.
With advances in medical technology and growing efforts by policymakers to address the rise in diabetes in the United States, the future is bright for those who manage diabetes daily.
Have an Automated Insulin Delivery Solution in Mind?
At Kajeet, we work with remote patient monitoring (RPM) manufacturers and can assist in upgrading devices to work wirelessly – we offer a FREE Module Developer Kit – that allows RPM and telehealth organizations to quickly deploy and test their connected solutions with a set of world-class IoT data and management tools.
If you would like to know more about the options available to you and how our wireless connectivity can improve privacy and security for your IoT devices, contact one of our experts today!