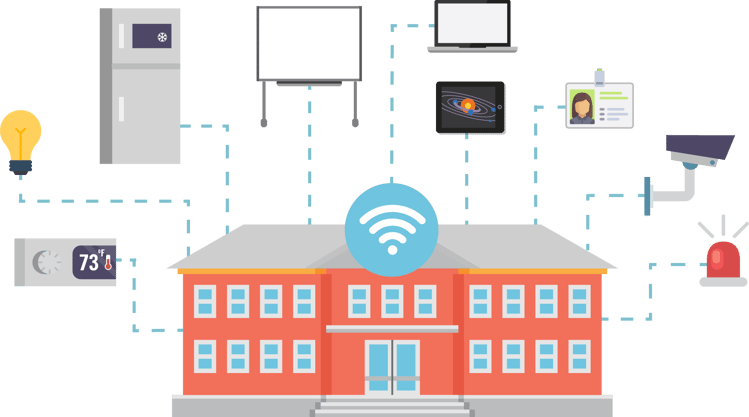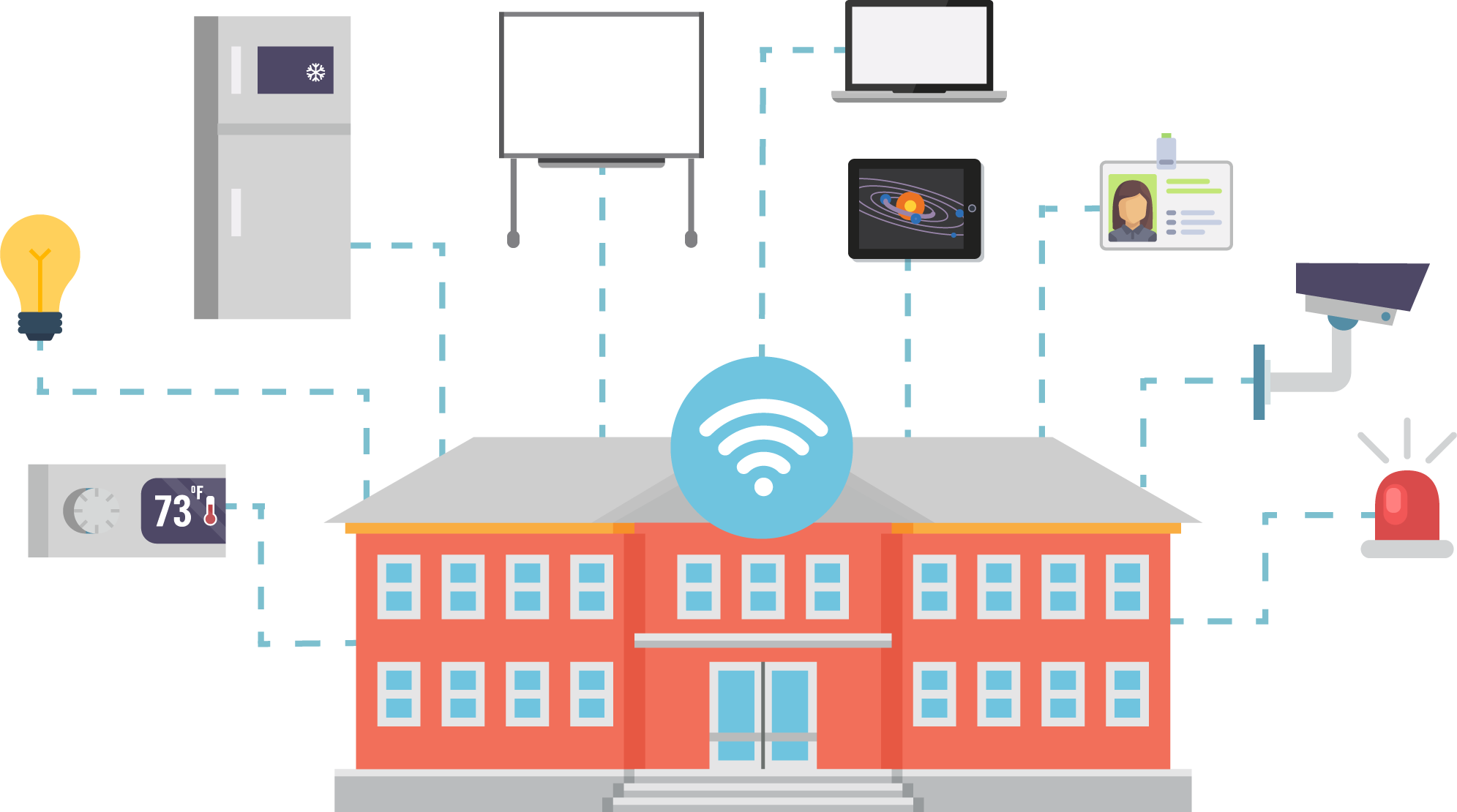 Updated 4/7/2021
From smart toys and clothing to smart homes and cities, the Internet of Things (IoT) is quickly becoming integrated into all aspects of our lives, and its influence and reach are only going to keep expanding. Gartner predicted that spending on IoT worldwide would reach $1.5 billion in 2018, while Statista estimates that there will be close to 31 billion connected smartphones, wearables, smart watches, cars, and other devices by the end of 2020.
But just what is IoT? And what does the future of IoT look like, particularly as it relates to K-12 school districts? With no end in sight to the massive growth and adoption of IoT, there will be a host of new opportunities — along with a few challenges — for schools going forward.
What is the Internet of Things?
Put simply, the Internet of Things refers to everyday objects connected to the Internet, able to collect and share data. Your Fitbit, your smart thermostat, your car data tracking app — they're all part of the Internet of Things.
In terms of the technology, Techopedia explains that IoT is "closely identified with RFID (radio-frequency identification) as the method of communication, although it also may include other sensor technologies, wireless technologies or QR codes." Bottom line, if you can connect it to and control it from the Internet and have it communicate in an intelligent way, you can probably turn it into an IoT device.
By transforming the physical world into "one big information system," as Techopedia puts it, IoT is already helping industries optimize their operations and improve efficiencies and decision-making.
With remote monitoring and equipment access, manufacturers can predict when a component might fail and replace it before it creates problems. Wearable health devices can alert doctors to a patient's imminent health problem and give them real-time data to devise a better treatment plan. Perhaps you heard about the Apple Watch story in December? New technologies also have the potential to revolutionize logistics and supply chain management. (Hello robots in warehouses packaging your next shipment.)
So where does education fit in with IoT?
Schools across the country are already getting on board with IoT as Internet-connected devices offer a range of benefits to students, parents, teachers, and administrators alike. Let's take a closer look at some of the ways K-12 schools are taking advantage of IoT today and how schools' IT systems and infrastructure will need to adapt to accommodate the proliferation of connected devices.
What's Driving the K-12 IoT Strategy
With literally billions of connected "things" out there, the possibilities for using IoT in K-12 are endless. But there are some key areas that today's school administrators are particularly focused on as part of their formal IoT strategy. In a 2017 survey of 300 K-12 administrators, CDW found that top use cases generally fall into one of three categories:
Interactive devices.
Security-focused technology.
Energy-saving resources.
Not surprisingly, these are also the three areas where schools see IoT devices creating the most value. According to survey respondents:
Eighty-five percent believe IoT will make schools safer.
Eighty-one percent believe it will improve student engagement.
Sixty-five percent say it will save schools and districts significant money.
As schools beef up their investments in IoT, expect these critical goals to continue to drive their decision-making.
IoT Across the Campus
Where might you see IoT in schools today? One immediately apparent example of how IoT is currently being implemented is through the use of digital devices like laptops, tablets, and digital whiteboards. These devices and their associated apps have quickly become commonplace in the classroom and transform the way teachers teach and students learn. By offering a richer, more personalized and interactive learning experience, this technology in the hands of teachers engages students and expands their learning opportunities.
IoT technology also makes it possible to deliver real-time, updated information to students digitally, replacing the need for bulky, quickly outdated textbooks. And communication between teachers, students, and parents is more immediate and seamless, making it easier to get questions answered, spot potential problems, and keep learning on track.
"Smart" learning environments are also beginning to crop up across school districts, encompassing everything from 3D printing to augmented and virtual reality to wearables that monitor student attention and track learning styles. Many administrators will be looking to the early adopters' experience for impact on engagement, achievement, and learning outcomes as they consider whether, where, and how heavily to invest in these innovative technologies.
But as CDW's survey shows, IoT's application in schools isn't limited to educational technology.
Next-generation IoT is introducing a new suite of tools and apps into all aspects of the campus environment. Just like in homes and businesses, more schools are turning to IoT technology like smart lighting systems and thermostats to improve energy efficiencies and reduce costs. RFID-chipped student ID cards and sensors for triggering text-based emergency alerts are giving parents more information about their children's whereabouts during the day — and greater peace of mind. And a variety of emerging security technologies, including connected security cameras, video surveillance with facial recognition capabilities, and wireless door locks, are helping schools create not just smarter but safer learning environments.
Preparing K-12 Schools for IoT
With so many obvious upsides, it's no wonder that administrators at K-12 schools are enthusiastic about IoT. But it's important to go into the IoT process with eyes fully open, because a dramatic increase in connected devices has significant consequences for a school's IT infrastructure. While even older schools can be transformed into connected classrooms, IT teams will have to be prepared to restructure and strengthen their networks to accommodate the modern learning environment.
As part of an overall IoT strategy, school administrators need to evaluate the capacity and readiness of the IT infrastructure, including:
Network and data protection: The more devices you have connected into a single system, the more exposure you have to cyber-attacks, ransomware, and other outside threats. It also makes the network more vulnerable to data breaches, with hackers and cyber criminals looking for opportunities to access sensitive data or private information about students and school employees.A study by Ponemon Institute found that data breaches cost educational institutions $245 per capita — $45 above the worldwide average — in large part because it takes much longer to find and contain the breaches in K-12 schools. But beyond the economics involved, there's a trust issue as well. Increasingly, tech-savvy students, parents, and staff are demanding that IT decision-makers place a priority on keeping personal information secure.To protect the devices as well as the data they generate, administrators and their IT teams should make sure they have a platform that allows for CIPA-compliant filtering, bandwidth limits, access controls, network security, and usage and data reporting. The costs of putting these protections in place will more than pay for themselves in the long run.
Bandwidth and reliability: The sheer number and types of connected devices can potentially overwhelm a school's existing network, especially if it's outdated or overly complex in its structure. And many schools simply don't have the bandwidth or the wireless capabilities to handle all the wireless connections they'll need.To effectively implement IoT, schools need a reliable and efficient infrastructure, robust Internet connectivity in every building and classroom, and failover solutions to keep things up and running in an outage.
IoT Gets on the Bus
A K-12 IoT strategy often extends beyond the school property itself. As a way of helping to bridge the Homework Gap, many schools now offer students the ability to check out devices and mobile hotspots for at-home access after school. More recently, the introduction of the connected school bus has taken off-campus IoT to a whole new level.
With over half of the U.S. K-12 student population riding school buses, School Transportation News notes that IoT's benefits "will soon find their way onto yellow school buses throughout the country." In fact, those same top three priorities of IoT in the schools — increasing student engagement, improving safety, and reducing costs — apply equally to the bus environment.
With Internet access, a connected bus extends the classroom by giving students the opportunity to use travel time to work productively on school assignments. Other technologies like driver Wi-Fi, GPS and routing, connected cameras, telematics, and parental notifications heighten safety while optimizing fleet maintenance and improving efficiencies.
Learn more about the eight technologies that create a complete 'Connected Bus' in our report here.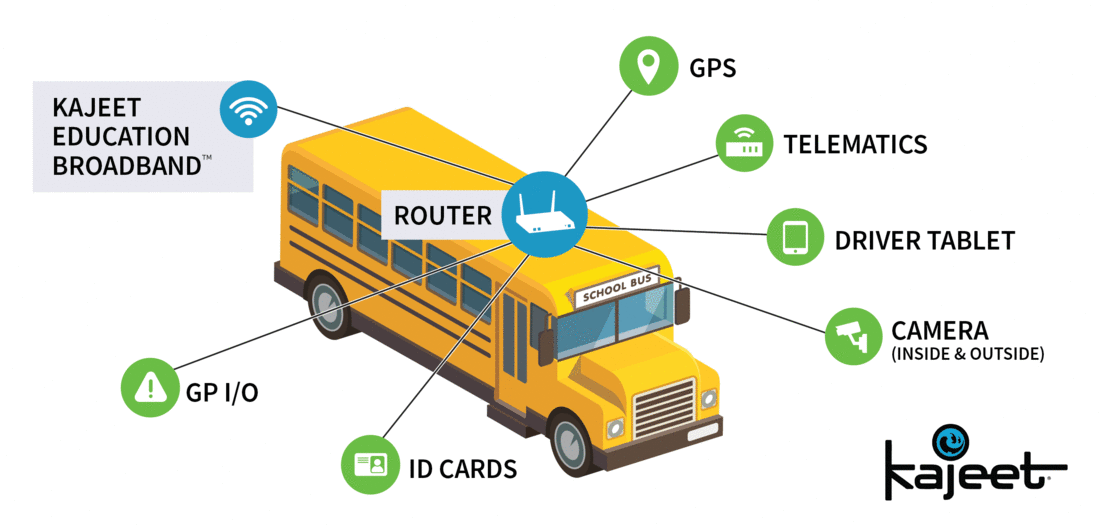 It's exciting to think about all the advantages these "smart buses" offer. But just like the challenges schools face in accommodating the flood of connected devices on campus, implementing next-generation buses takes planning and a full understanding of what's involved.
In many ways, buses present the same challenges — such as bandwidth and security issues — only supercharged and mobile, with the need to manage both academic and operational traffic along with all communication off¬ the bus to commercial and private networks. Administrators and transportation directors have to be able to coordinate and connect an array of different technologies, tools, and suppliers in order to get the full benefits of IoT on board and reduce total cost-of-ownership.
The connecting piece is Internet access. On buses, Wi-Fi brings the connected world on board, expanding a school's capabilities to integrate any IoT solution they need. Contact Kajeet to learn how the Kajeet SmartBus™ can ease the process of bringing IoT to your fleet by providing one ruggedized router to support all of your bus Internet connectivity needs, including student access to filtered Wi-Fi.
From budget limitations and staff constraints to infrastructure requirements, no two school districts are alike when it comes to accommodating the growth of IoT in K-12 schools, whether it's on or off campus. All of the aforementioned technologies, and those that haven't been developed yet, rely on a robust, enterprise-grade IT network and Internet access.
IoT is poised to transform all aspects of the school environment. But before wading too deeply into these next-generation technologies, make sure you have the clarity, strategy, and tools to accommodate them and address your district's goals.