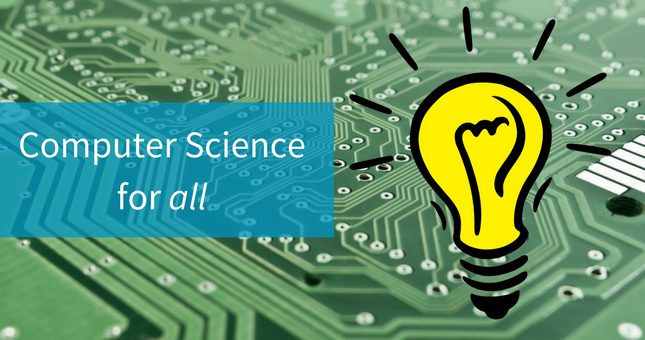 Decades ago, high-school computer science classes were something of a luxury. In this elective course students explored basic C++ coding skills to create small games, and play around with a technology that was just starting to embed itself in our everyday lives.
Computer science classes were interesting, fun, and informative – but they weren't necessary to a student's education or his or her success in the world.
That's no longer the case. Basic computer science is a vital skill any student who wants to succeed in the future needs to know.
Today, computer science isn't just for some students. It's for every student.
WHY COMPUTER SCIENCE MATTERS
Imagine a world today without computers. It seems impossible, right?
That right there is why computer science matters.
Our lives today are built around computers. These machines and their myriad capabilities touch every single aspect of our lives, keeping us connected to one another, and allowing for the free flow of ideas and information between people who wouldn't otherwise be able to come together as a community. They shape our economics, making it easier to sell and purchase goods, and to create fascinating new jobs. They are the driver behind nearly every technological advancement of the last few decades, from smartphones to solar panels.
Computers continue to advance and embed themselves in everyday life, from home to work. As computer use grows, technology skills will be imperative for the future workforce. The need for skilled technology professionals is just beginning. And luckily, these skills can be learned at a young age.
With more nationwide emphasis on STEM education (science, technology, engineering, mathematics), computer science is playing a bigger role in education. In fact, by 2018, it's projected that 51 percent of all STEM jobs will be in computer science-related fields.
The downside, according to the National Science Foundation (NSF), is that computer science is taught in less than 25 percent of the nation's K-12 schools, and few middle schools and elementary schools offer "academically rigorous" computer science experiences.
COMPUTER SCIENCE FOR ALL
To thrive in this tech-driven future, it's imperative that high-school students have the ability to learn and hone computer science skills in the classroom.
In 2016, during his State of the Union address, President Barack Obama declared: "In the coming years, we should build on [our] progress by…offering every student the hands-on computer science and math classes that make them job-ready on day one."
To help achieve those goals, President Obama initiated Computer Science for All, a project to help K-12 students learn the computer science skills that will help them define and shape the future of America's tech-driven society. The initiative recognizes, at the highest levels of government, that computer science is a basic skill, like reading and writing, which is critical for a student's economic and social opportunities.
There are four main goals of Computer Science for All, according to the NSF (a leader of the initiative).
Empower the nation's students with computational thinking skills.
Address an important workforce development need for tech-related jobs.
Provide rigorous computer science education to every school in the United States.
Expand access to computer science to women, minorities, and persons with disabilities.
Computer Science for All calls for:
Funding for states and school districts to train computer science teachers, to expand access to high-quality educational materials, and to build strong partnerships between regions;
Funding from NSF and the Corporation for National and Community Service, as well as enlarging access to prior programs and professional learning communities;
Involving more state, city, and district leaders to help boost computer science education mirroring initiatives undertaken by other states and school districts in the nation; and
Engaging professionals, philanthropists, corporate executives, and organizations to commit more efforts to expanding computer science across all 50 states.
So what are states currently doing to improve the quality of computer science education at the K-12 level?
RHODE ISLAND: CS4RI
One interesting case example comes from Rhode Island, under the title Computer Science for Rhode Island (CS4RI). The mission of this 2016 initiative by Governor Gina Raimondo is simple and powerful: to teach computer science in every public school in the state by December 2017.
Like President Obama's initiative, CS4RI is designed to prepare Rhode Island students to qualify for – and fill – the in-demand STEM jobs of tomorrow. As the initiative's architects note:

Creating a talented and diverse pipeline of students with computer science (CS) expertise is critical to our economic future. Rhode Island's IT industry is a leading force in our economy, and STEAM and IT jobs are among our fastest growing positions. We need to develop a workforce with the skills necessary to fill these high-wage, high-growth jobs.
Designed to be comprehensive in scope, CS4RI collaborates with computer science-related programs and institutions to help teach students essential computer science skills from kindergarten to graduation. Always at the forefront of the initiative's mind are programs that are low-cost or no cost. Organizations currently collaborating with this program include Code.org and GameSalad.
CS4RI's existing programs, aligned with various state and national standards, are designed to address the specific skills, needs, and abilities of students at various stages of the educational process.
Elementary School: Students can learn the basics of computer science by designing games, creating code with drag-and-drop programming, sharing interactive stories, and learning how computer science relates to the wider world around them.
Middle School: Students can expand upon their understanding of computer science through modules that address topics like digital design and computer problem solving, and through the creation of professional-grade mobile games.
High School: As students prepare to graduate into college and, soon after, careers in a STEM-focused world, they can work toward college credit and get college-level introductions to coding and programming during their high-school years.
CHICAGO, IL: CS4ALL
Rhode Island isn't the only state taking the lead in changing how computer science education works in the United States. Another fascinating case study of recent developments in computer science education comes from Chicago's public school district.
This program, Computer Science for All (CS4All), was launched by Chicago mayor Rahm Emanuel in December 2013. Three years later, in February 2016, the Chicago Board of Education announced that, starting with the class of 2020, computer science would be a graduation requirement for all students within the Chicago public school system – the third largest school district in the United States.
According to Mayor Emanuel:
"Making sure that our students are exposed to STEM and computer science opportunities early on is critical in building a pipeline to both college [and] career. Requiring computer science as a core requirement will ensure that our graduates are proficient in the language of the 21st century so that they can compete for the jobs of the future."
CS4All's curriculum guide is a window into the various skills that K-12 students, whether in Chicago or Albuquerque or Miami, should know in order to be prepared for a rapidly changing, computer-oriented world.
These skills include:
Computational thinking,
Innovative designing,
Working with algorithms, and
Soft skills in information technology.
WAYS TO GET STARTED
What can your district do to follow in the examples of Rhode Island, Chicago, and other states and districts across the country?
NSF, its researchers and partners offer several resources to help districts and computer science educators get started in strengthening the quality and effectiveness of their computer science education.
These potential solutions include:
Computer science courses and instructional materials that help educate students at both the introductory and Advanced Placement levels,
Projects that are designed specifically to integrate computer science within the needs of STEM education, and
Pilot programs and models that can help educators introduce computer science education into their school districts.
BROADBAND INTERNET FOR ALL
In order to fully develop computer science skills, broadband Internet is a must-have. Nearly all the learning options, courses, and programs available depend on students having access to fast, reliable, safe Internet, whether they're in their school computer labs or outside the classroom. And, not every student has at-home Internet access to continue their CS education.
That's where Kajeet can help. Covering more than 350 school districts across the country, Kajeet Education Broadband™ is a critical tool that helps budget-conscious school districts keep pace with the future of education in the country by providing students at-home Internet access.
And if your students – not just your budding computer scientists but all of them – have access to the Internet, then nothing is beyond their reach.