In June 2020, Kajeet, in conjunction with School Transportation News, surveyed 300 K-12 transportation professionals to learn more about technology on the bus. According to this survey, eight percent of respondents already have WiFi on some or all of their buses. Although this number may seem unimpressive, nineteen percent have school bus WiFi on their tech wish list for the 2020-21 school year. What is driving this increase interest in school bus WiFi? The shift to distance learning may have something to do with it.
As schools went virtual in March of 2020, district leaders had to quickly find ways to get students without Internet at home connected to their online materials. While some districts purchased mobile hotspots, referred parents to low-cost home Internet options, or leaned on local businesses and organizations for support, others looked to their buses.
You may have seen it on your local news, on social media, or even out in the community. The use of school bus WiFi amid distance learning is even making national headlines. With all the buzz around this new edtech trend, let's dig into how it actually works to set up a community hotspot with a school bus.
How to Create a Community Hotspot
WiFi-equipped buses can be strategically parked throughout the community to create an Internet access point for students. Popular locations include school and church parking lots, neighborhoods, apartment complexes, and mobile home parts. Some districts incorporate it into their meal distribution plan. The signal reaches up to 150 to 300 feet from the bus, allowing students to follow social distancing guidelines while access the Internet. Depending on where the bus is parked, students can access the Internet from inside their home, sitting in a parked car, or by finding a place to sit near the bus (i.e. bench or picnic table). Here are some things to consider before parking WiFi-equipped buses throughout your district.
Where should the buses be deployed? Surveys sent to parents can help districts get a better idea of which students do not currently have access at home.
What hours/days will the buses be parked? Many districts only have the buses parked in the community Monday through Friday, and only for certain hours (i.e. 8:00 AM – 2:00 PM).
How will the router be powered? A portable unit will run on a battery pack, while a hard-installed unit will be powered through the bus battery. Some districts have also installed a solar panel on the roof of the bus to power the router. A Kajeet SmartBus router has a delayed auto/off feature that will keep the router powered on for up to 18 hours after the ignition is turned off. Otherwise, a driver or staff member will have to keep the bus running, or at least turn over the engine periodically to keep the router powered on.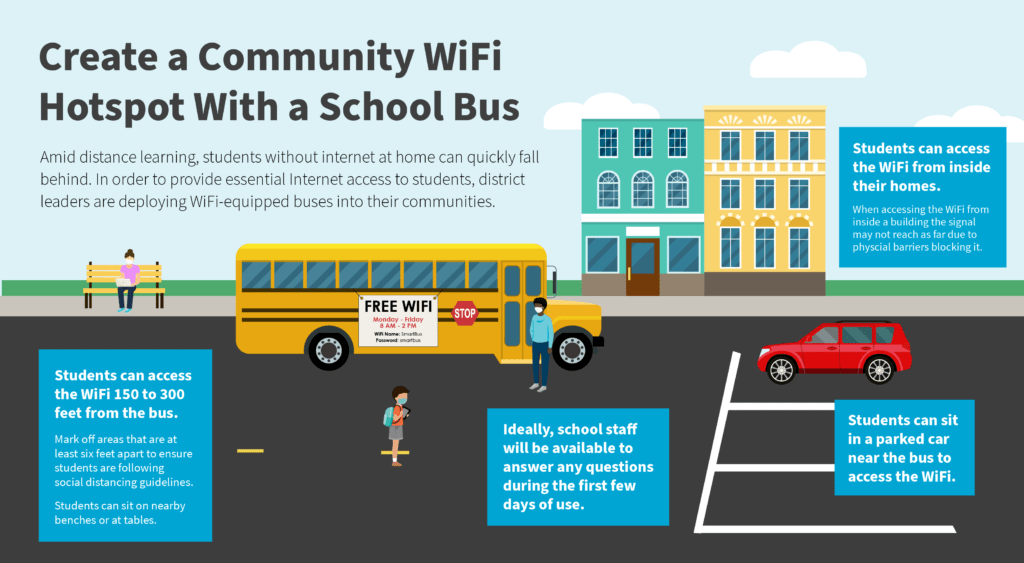 To learn more about setting up creating a community hotspot with your school bus, download our guide.
School Bus WiFi Beyond the Pandemic
Some may wonder what will happen to these WiFi-equipped buses once schools eventually return to in-person learning. Fortunately, the answer is simple – they will be used as they have been for years, to extend the classroom for students while traveling on the bus. On average, students are on the bus for 20 minutes a day, each way. That adds up to 120 per hour a year, which is time that could be well spent for students with an after school job, piano lessons, soccer practice, family responsibilities, or for those who simply don't have Internet at home. Basically, with access to safe, filtered WiFi on the bus, students can complete, or at least get a head start on, their schoolwork before they even get home.
The benefits of school bus WiFi go beyond daily routes. Student that participate in school athletics, teams, and clubs, may spend hours traveling to and from events, often having to leave school early. This time that is missed in the classroom and time spent on the bus, could be used to complete homework. Educators have also found that field trips can be enhanced with additional learning opportunities when students can connect to online materials on the way to and from their destination.
School Bus WiFi Connects More Than Just Students
Although bus WiFi is mainly seen as a tool to connect students, it can also be used to connect a district's existing and future bus tech, such as driver tablets, cameras, telematics, and student ridership solutions As more technology becomes standard on fleets across the country, having a secure, enterprise-grade router will become essential.
To learn more about outfitting your fleet with school bus WiFi, tell us a little bit more about your district needs and we will have an education specialist reach out to answer all of your questions.