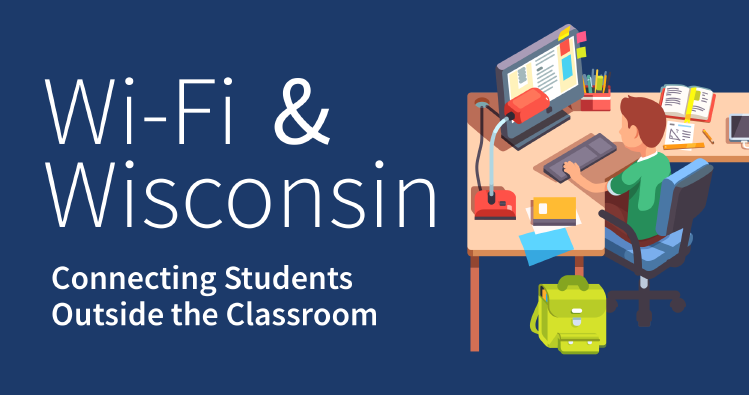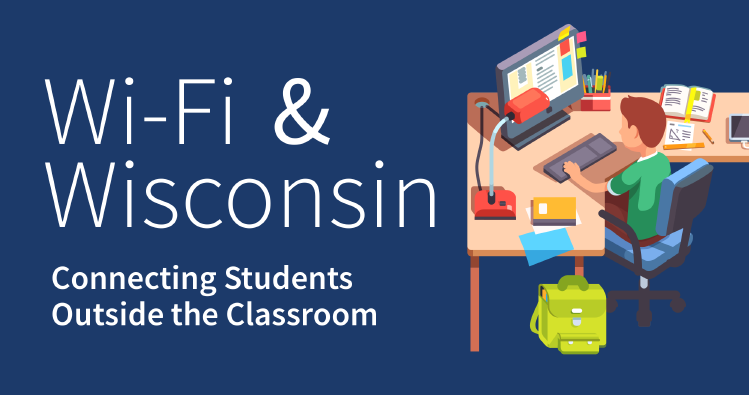 The State of Wisconsin approved funds to expand broadband Internet for students outside the classroom through the Information Technology Infrastructure Grant. The funding application is now live and available here.
These funds are a reallocation of existing funds within TEACH, the Wisconsin Technology for Educational Achievement program.
To find out if your school is eligible and more grant details, keep reading.
Grant Details and Eligibility
Grants may be awarded to eligible, rural school districts for the purpose of improving information technology infrastructure.
Districts that have the greatest percentage of free or reduced-price lunch will be given funding priority.
Rural districts in Wisconsin will be able to use these funds for the Kajeet SmartSpot® and/or SmartBus™ solution.
How much money is available? Up to $15 million is available for school districts that have 16 or fewer students per square mile. For purposes of this grant, "improving information technology infrastructure" includes purchasing and installing portable Wi-Fi on a bus and purchasing for students to temporarily borrow Wi-Fi hotspots from a school.
What is the breakdown of available funding? According to the legislation, districts may receive up to the following funding amounts to secure broadband outside the classroom:
Districts with fewer than 750 students may receive $30,000.
Districts with 750 to 1,500 students may receive $40 per student for connectivity (anywhere from $30,000 to $60,000 per district).
Districts with more than 1,500 students may receive $60,000.
Note: $15 million is available in the 2017-18 fiscal year; however, only $7.5 million will be available during the 2018-19 fiscal year.
Who is eligible? A Wisconsin school district is eligible for a grant based on the following fiscal year breakdown:
2017-18: A school district's enrollment in the previous school year divided by the school district's area in square miles is 16 or less.
2018-19: A school district's enrollment this current school year (2017-28) divided by the school district's area in square miles is 16 or less.
Wisconsin TEACH posted a spreadsheet of the eligible school districts, available here.
Eligible Equipment and Services
Additionally, Wisconsin TEACH posted a tentative list of FY18 Eligible Equipment and Services. Reimbursement of 100 percent is available for portable devices (hotspots) for wireless Internet and coverage, including on buses and for library check-out.
Kajeet provides filtered, educational Internet access to students outside the classroom through the Kajeet SmartSpot (Wi-Fi hotspot) and SmartBus (Wi-Fi on school buses) solutions. If you're interested in learning more, join our waitlist to be notified when the application is live and learn how the Kajeet solution can help connect your students.
Application Process
Applications for TEACH Information Technology Infrastructure Grants are now live and due Friday, Feb. 2, 2018 by 11:59 p.m., submitted via email or mail to TEACH. The application is available here.
If you would like more information on how Kajeet Education Broadband works with these funds, contact us here.
Check out our page on grant writing tips in order to get organized before the application is available.
Steps include: start with your project and the goal; develop a clear, concise plan for your project; and get buy-in from your administrative team before you apply for funding.
Level the Playing Field
Funding for connectivity will not only level the playing field in your rural school district, but it will also increase success for your students. If your school district is eligible, we recommend the following:
Understand your technology program and how broadband will improve student access to educational opportunities from home, specifically to underserved communities.
Collect information on necessary equipment and costs to make your program complete.
To simplify the process for you, Kajeet created a best practices guide on rolling out technology to students.
And a large number of students in Wisconsin are without Internet at home and find themselves caught in a widening Homework Gap – struggling to keep up with their more affluent peers. Kajeet pulled together stats on what Wi-Fi access looks like in Wisconsin in this colorful infographic (below is a just a snippet of it).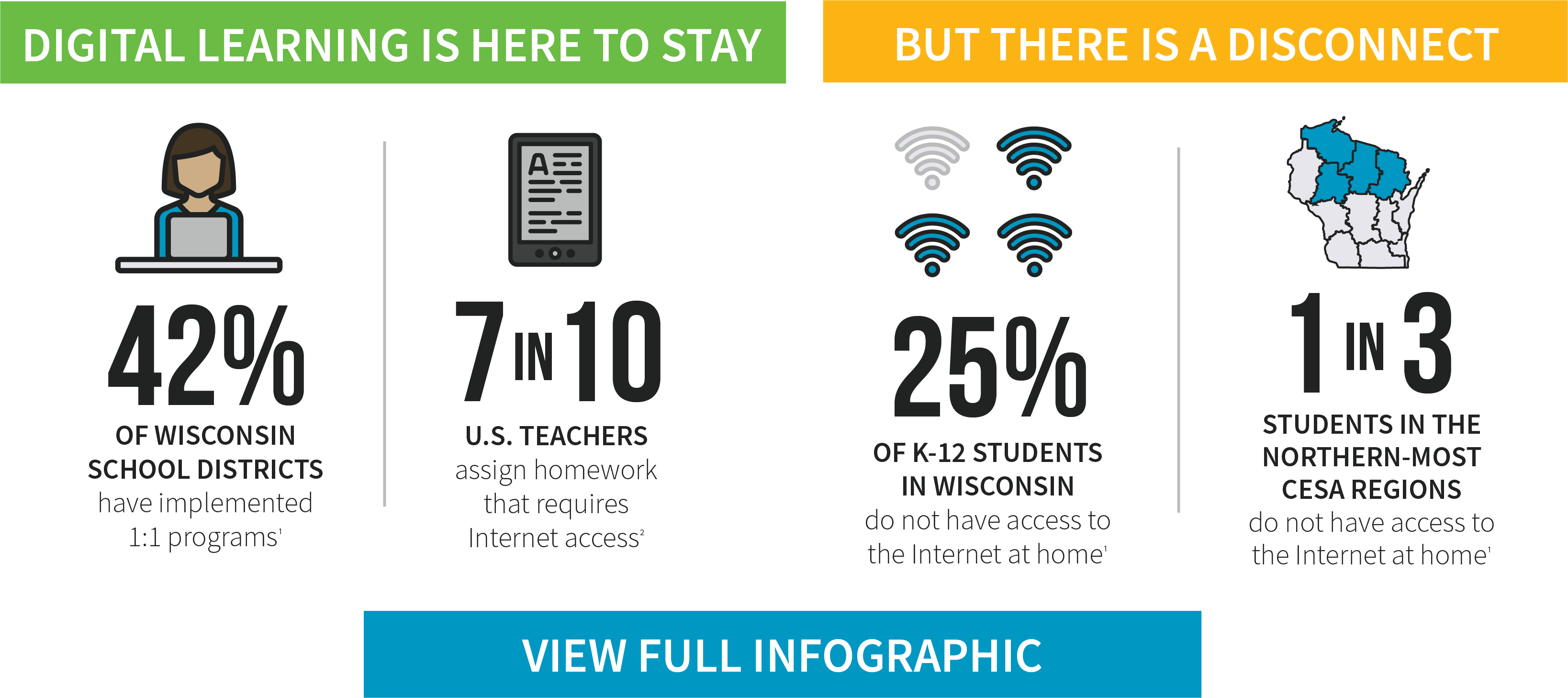 Providing Internet for Students Outside the Classroom
The Wisconsin Information Technology Infrastructure Grants create an opportunity for you to help connect students. And Kajeet is right here to make that connection happen.
Our safe, mobile broadband Internet keeps students connected either at home or on the bus with CIPA-compliant filters. Additionally, our Sentinel® cloud platform provides administrators with analytics, reporting, and a convenient dashboard to gain insight into student usage.
And we serve schools across the nation, including Wisconsin.
Green Bay Area Public Schools' Chief Technology and Information officer Diane Doersch was tasked with ensuring all students across their 41 schools had access to Internet after school. After evaluating various Internet solutions, the technology team chose the Kajeet SmartSpot solution because of its filtered, CIPA-compliant service that is easily monitored and controlled remotely.
For an example of a fellow Wisconsin school district finding success with Kajeet, read the full Green Bay case study here.
Before we go, let's get back to the grant.
Work with your local CESA or contact us today if you would like more information regarding Kajeet and this Wisconsin grant.
This blog post was last updated on Dec. 13, 2017.