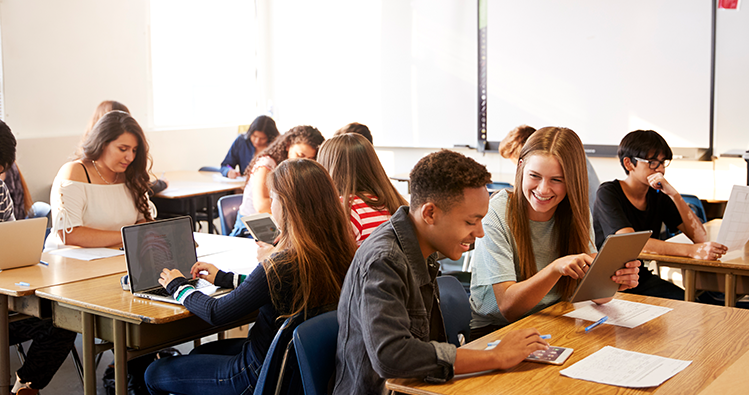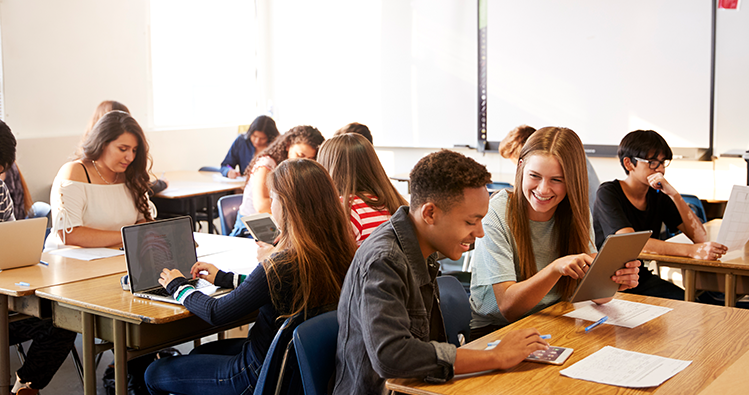 As of 2019, there are 26 federal grant-making agencies and over 900 federal technology funding programs that can help under-funded schools in low-income districts purchase new technologies for their students. Federal funds can also help these schools train teachers, boost parent and community involvement, and improve overall academic achievement.
Success starts with education. And for today's K-12 students, that education starts with access to technology. But technology—whether one-to-one device programs or filtered broadband Internet—isn't cheap.
That's where funding comes in.
There is a specific federal fund to help disadvantaged students across the country close the achievement gap between them and their higher-income peers: Title I.
What are Title I Funds?
Title I funds get their name from Part A of 1965's Elementary and Secondary Education Act specifically targeted to help children in poverty. It's the largest federal program out there supporting elementary- and secondary-school students who need the technology, supplies, and resources that students in other school districts take for granted.
How does it work?
The U.S. Department of Education allocates Title I Funds through educational agencies in an individual state, who then allocate those funds to local educational agencies. The goal: improve the achievement rate of students in schools with high concentrations of students from low-income families.
According to the U.S. Department of Education, there are four statutory formulas through which these federal funds are allocated to low-income school districts (known as "Title I Schools"). These formulas are based on census poverty estimates and the cost of education in a particular state.
Basic Grants: These grants provide funds to local agencies where the number of low-income children exceeds two percent of the school-age population.
Concentration Grants: These grants provide funds to local agencies where the percentage of low-income children in the school-age population is 15 percent or higher.
Targeted Grants: These grants are specifically weighted so that local educational agencies with higher percentages of low-income children receive more federal funds.
Education Finance Incentive Grants: Also known as EFIG, these funds are distributed to states based on that state's effort to provide financial support for education.
You can find more details about the types of Title I grants here.
What Can Title I Funds be Used For?
Recent government data shows that in the 2015-2016 school year more than 55,000 public schools in the United States tapped into Title I funds as a way to boost the success rates of their students.
In that same year, according to the U.S. Department of Education, Title I served more than 26 million children, including:
58 percent in grades K-5,
21 percent in grades 6-8,
19 percent in grades 9-12, and
Two percent in pre-K.
There's no one-size-fits-all way to use your Title I funds. So long as Title I dollars are used to support the learning of eligible children, they can be used in ways that specifically target the needs of a low-income school.
Common uses for Title I funds include:
After-school programs to keep kids safe and learning.
Professional development for staff who work with Title I funds.
Anti-bullying programs and academic coaching resources.
Pre-K opportunities that support the needs of working parents.
Build strong parental involvement by ensuring the student and their parents can access educational resources with Internet at home. Contact Kajeet here to learn more.
Title I for Better K-12 Technology Tools
Title I funds are a powerful resource for schools and school districts looking to incorporate more educational technology in the lives of their low-income students. The only requirement: the tech tools must support teaching and learning activities for Title I students.
What's the best way to integrate technology into schools using coveted Title I funds? A report by the Consortium for School Networking (CoSN) and the National Title 1 Association titled "Rethinking Educational Equity in a Digital Era" suggests stakeholders ask themselves several key questions.
Is the technology consistent with your district's overall vision for education technology?
How does the technology support or enrich your curriculum and classroom environment?
How does the technology (and your plans for it) address professional development?
What infrastructure needs to be in place to fully support the technology?
How does the technology address the issue of digital access outside of school?
Title I at Work in Fayette County
Title I funds offer a way for schools and school districts to take advantage of the benefits of the Kajeet wireless connectivity solutions for their K-12 students.
One recent success story involving Title I funds happened in Fayette County, Georgia. Concerned about her students' limited access to technology in and out of the classroom, Title I Coordinator Clarice Howard used Title I funds for safe, filtered, broadband Internet access for students who demonstrated a need for it.
"All students need access to devices," Howard said. "Title I provided devices for those who couldn't afford them. As the school day extends outside the class, we needed to make sure students had what they needed, and that includes safe access to the Internet."
One parent who's already noticing changes is Kimberly R., whose middle-school son is enjoying access to the Internet after school with a Kajeet SmartSpot® device.
"Now we can keep up with his homework through the school website, and if he has a question, we can use the Internet to look up an answer," she said.
Getting Started
If you're an educator interested in applying for Title I funds, reach out to your district's Title I director, your district's federal programs director, or your district's assistant superintendent.
The resources—both financial and technical—are out there.
And now that you've finished this blog, go read our second blog (of three!) in our Title I series called, "What Can Title I Funding Be Used For?"